Want to know my thoughts on Soap and Glory's The Breakfast Scrub?
"

Exfoliator with organic cupuacu bio scrubs, bananas, almond and honey extracts. Features a great new maple fragrance.
"
The scrub comes in Soap and Glory's famous quirky, eye catching
packaging
which we all know and love lots. Unlike the other scrubs I've tried from Soap and Glory (Flake Away and Sugar Crush) The Breakfast Scrub has a domed bottom rather than the normal tub shape which I think is a really nice addition to the packaging as it's almost like a breakfast bowl which is really fitting with the product. I find it looks good and does it's job at keeping the scrub safe.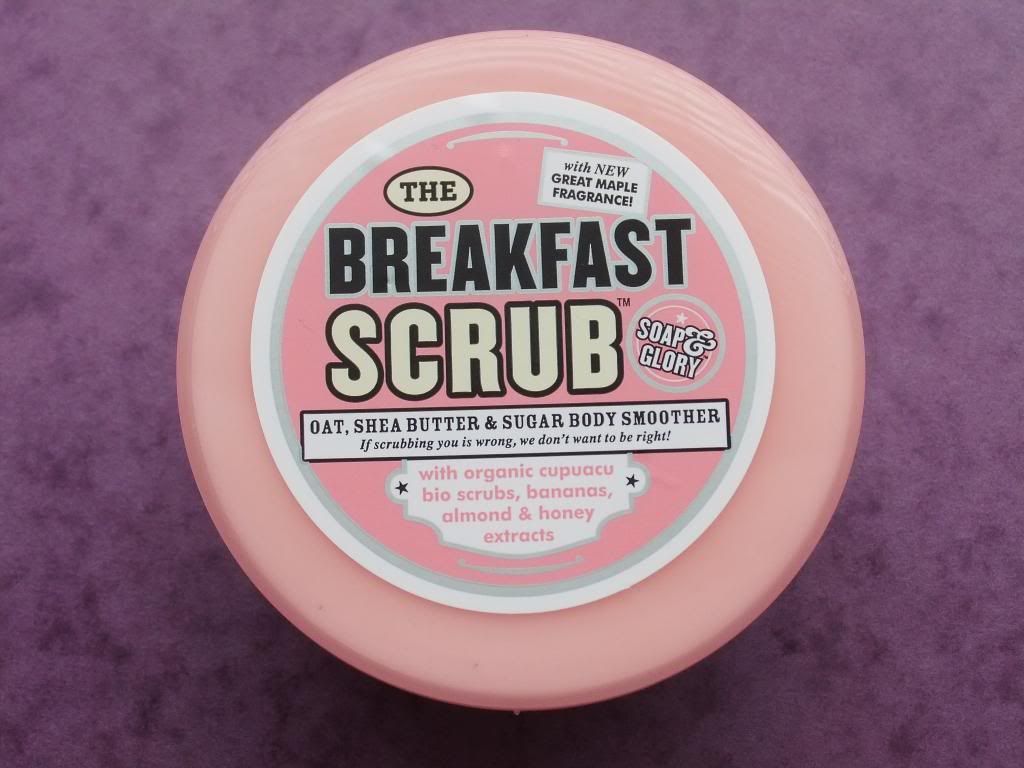 Time and time again real life friends and fellow bloggers told me how incredible this scrub was and that I "needed" it in my life. Not sure why but I just didn't pick it up. It's not because I didn't like the sound of it or I didn't want to pay the price tag, I just never got round to buying it. Anyway after roughly a year of people raving to me, I finally purchased The Breakfast Scrub. Now I'm already a fan of
Flake Away
for my really rough areas like my knees and elbows and
Sugar Crush
for an all over, more gentle exfoliation so I was already aware that Soap and Glory do some cracking scrubs/exfoliators, therefore I had quite high hopes for The Breakfast Scrub. Right, the first thing I noticed about the product was the scent. Oh my, oh my. The smell is lovely. It's a sort of mixture of caramel biscuits and sweet syrupy pancakes. It's very food like and just a joy to smell. As far as texture goes, it's quite thick and has a similar consistency of mashed up banana but it holds better with the addition of the gritty bits. Despite it containing a lot of sticky ingredients, it's not tacky or hard to work with. As for the results, it works really well. It's contains small gritty particles with the addition of much larger, chunkier sugar like particles. The small particles allow a gentler exfoliator whereas the larger ones can tackle those nobly areas. It is sort of a mixture between Flake Away and Sugar Crush in the sense that it gives a deep exfoliation but not quite as deep as Flake Away but also has the gentleness of Sugar Crush. The Breakfast Scrub leaves you feeling super smooth and smelling like a freshly baked sugary treat which lingers nicely after time in the tub.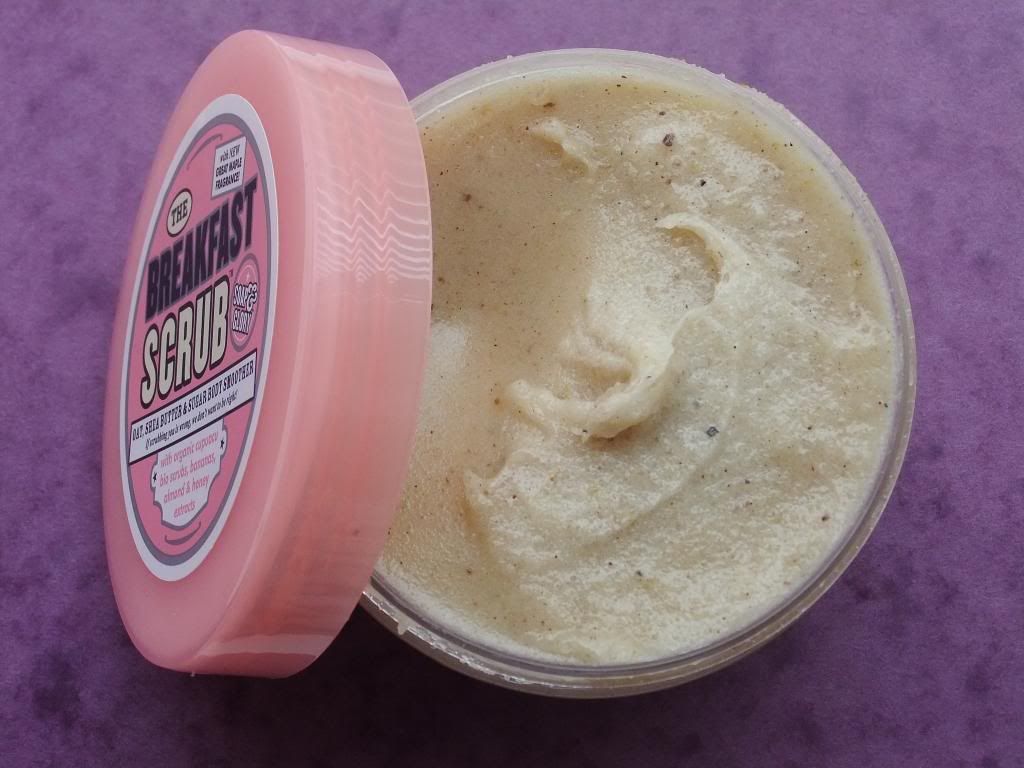 Affordable
Quirky, secure packaging
Smells lovely, sort of like freshly baked caramel biscuits which lingers nicely after use
Leaves skin feeling super soft
Sort of a mixture of Flake Away and Sugar Crush in terms of texture
Not sticky or tacky
Not quite a deep exfoliation as Flake Away (but still does a fairly good job on those nobly areas)
I think if you love Flake Away and Sugar Crush, this scrub is a good mix of the two in terms of texture. I personally really like the smell of The Breakfast Scrub but I know it won't be everyone's cup of tea so I highly recommend giving this a sniff in store if you can as it's quite sweet. Overall, I really like this scrub and shall continue to use it during tub time so I can smell like a delicious treat!
What do you think of The Breakfast Scrub?