Want to know my thoughts on the Soap and Glory The Fab Pore 2 in 1 Facial Pore Refining Mask and Peel?
What Soap and Glory say
"2-in-1 Facial Mask and Peel with Superfruit Yuzu and Poreshrink-R Complex.
Massage THE FAB PORE into your face and focus on your T-Zone. Clog prone? Leave 5 minutes for a quick refresher or 15 for an extreme clean. Rinse well, and follow with moisturiser/treatment cream. Repeat as needed (1-3 times/week)
INGREDIENTS
Aqua (Water/Eau), Glycerin, Stearic Acid, Kaolin, CI 77891 (Titanium Dioxide), Glyceryl Stearate, Triethanolamine, Oryza Sativa (Rice), Bran Wax, Phenoxyyethonol, Allyl Methacrylates Crosspolymer, Methyl Lactate, Niacinamide, Salicylic Acid, Ethylhexylglycerin, Parfum (Fragrance), Pyridoxine HCI, Tetrasodium EDTA, Butylene Glycol, Formes Officinalis (Mushroom) Extract, PEG-8, Ascorbyl Tetraisopalmitate, Tocopheryl Acetate, Citrus Junos Fruit Extract, Tocopherol, Ascorbyl Palamitat, Crataegus Monogyna Leaf Extract, PEG-40 Hydrogenated Caster Oil, Asorbic Acid, Citric Acid, Maltodextrin, CI 7789 (Chronium Hydroxide Green) CI 42090 (Blue 1)"
The Soap and Glory The Fab Pore 2 in 1 Facial Pore Purifying Mask and Peel will retail at £10.00 and will be available to purchase from
the Boots website
and in stores soon.
The mask comes in a lovely little mint green pot that houses the product well.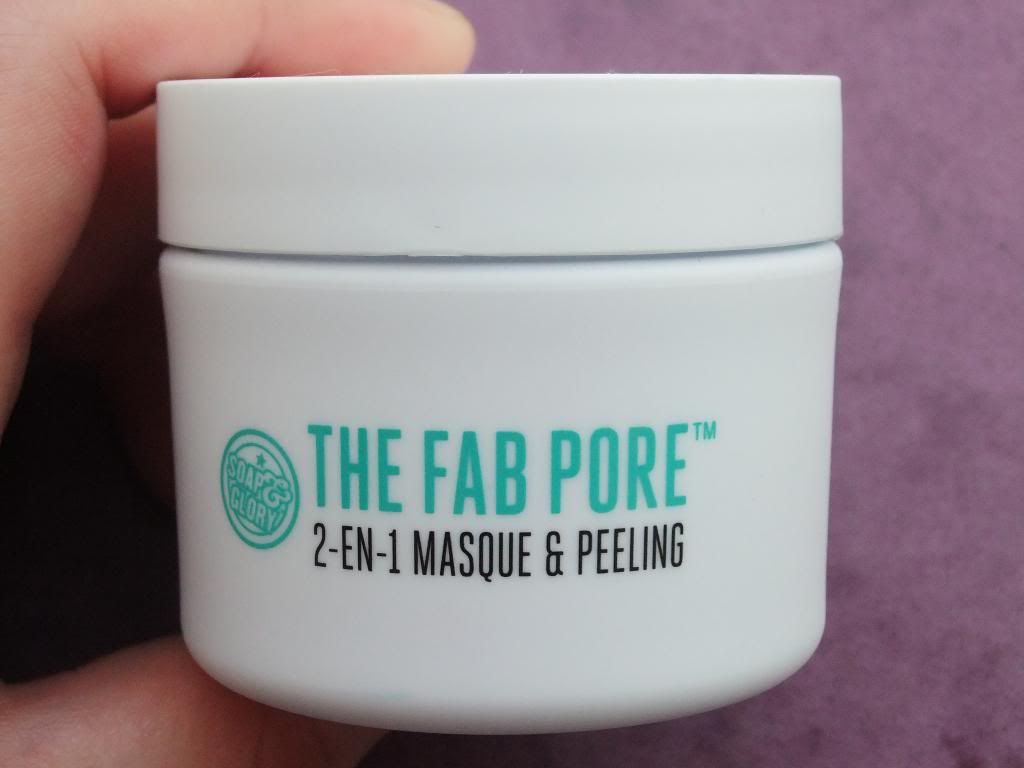 You may be thinking why does The Fab Pore look different? Well apparently it's part of Soap and Glory's new Skincare line, Skin Genius. From what I can tell, Soap and Glory are basically updating packaging and some formulas as well as adding in some brand spanking new products. Sounds fantastic doesn't it? So here's what I think of the newly formed, soon to be released Fab Pore...When I first opened this little tub I was instantly intrigued by the mint green appearance of the mask and the strong but lovely scent. To me it sort of smells like a mixture of mint, nettle and sugar. Weird I know. It has a ever so slight similar scent to Peaches and Clean but it does differ. After sniffing the pot for ages, I decided to smother this all over my freshly cleansed combination skin and see what magic it could do for me. When on it was very cooling and calming but not freezing like some masks I've tried. The directions stated that I should leave the mask on for 5 minutes for a quick refresher and 15 minutes for an extreme clean. So at first I put it on for 5 minutes and noticed it had gently removed dead skin cells thanks to the little blue beads that the mask contained. My skin was left nice and glowy but not really doing too much for my blackheads or spots. A few days later I left it on for the longer recommended time. Once I washed it off I noticed my skin was again, nice and glowy with the addiction of some squeaky clean pores. Of course not every single blackhead and spot was gone but I felt like my skin was a lot cleaner. I will say that the results are temporary and that to maintain them, you need to use the mask regularly but for me I don't mind at all as I find wearing the mask a total joy. Another thing I did notice is that the mask was easy to remove which is something I really like about it as I often find removing exfoliating masks a pain in the bum but this was quick and easy.
Dermatologically tested
Formulated without Parabens
Not too pricey
Good packaging
Smells fantastic
Cooling and calming when on
Gently removes dead skin cells
Leaves skin soft and glowing
Cleans pores nicely
Easy to remove
Results are temporary therefore to maintain them you need to use the mask regularly (which I don't mind at all, but some people may)
I really like this mask and find myself reaching for it on a regularly basis, especially when my skin is in need of a deep clean. Big thumbs up Soap and Glory! I can't wait until the Skin Genius line is released!