Want to hear my thoughts on the GHD Oval Dressing Brush?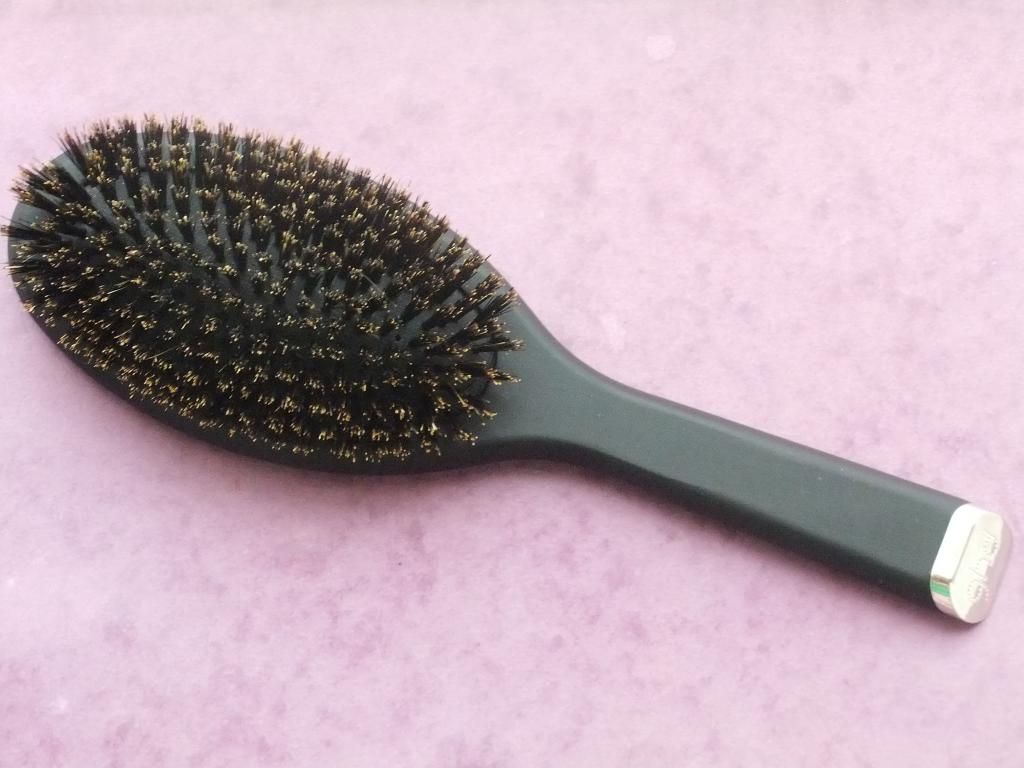 For a  while now I've fancied trying out some
ghd
tools as I'd heard amazing things about them from friends, bloggers and YouTubers. Recently I was ever so kindly sent the ghd Oval Dressing Brush to try out. The brush retails at £20.00 which I admit is a bit pricey however, Good Hair Day are a trusted brand and I suppose when this is the case and they have a brilliant reputation, they're able to charge such prices.
The brush is said to be a classic brush for daily hair care and its natural bristles are said to help distribute the hair's natural conditioning oils along the hair shaft. By doing this it is said to add shine and lustre as you brush your locks. Now I myself have thick, long locks which are slightly damaged from years of applying heat. Although my hair can become greasy fairly quickly, I find the majority of the time it is kinda dry, dull and frizzy. Because of this issue I'm always on the look out to give my hair that TLC it requires but at the same time I do feel I have to be careful because of the greasy factor so I'll admit I was a little apprehensive about trying this brush out but nevertheless I gave it a go.
ghd recommend when using the brush you use from the scalp to the ends of your hair as this ensures the follicles are stimulated which is supposed to promote healthy hair growth. So naturally I took their advice and did so. The result? From the first use I noticed my hair had a much nicer shine to it. My hair also felt like it was a lot sleeker and straighter and I found myself stoking my hair as it felt fabulous (Yes, I know how weird that sounds!) However, I must admit, I did have to split my hair into small sections to use the brush which meant that in comparison with an average brushing, it took a fair bit longer so I definitely wouldn't use this brush if I was in a hurry, but it is a good tool to use for a fancy event or night out when you have a bit more time on your hands. This issue was due to the bristles not being long enough to go through my hair. For those with thin hair, I'd expect you wouldn't have this issue but I'm really hoping ghd look into this issue and come out with a slightly longer bristle version for us thick haired guys and gals. In terms of the greasy issue I was worried about, I found on second day washed hair when I used the brush it did make my hair look a little greasier but it wasn't anything major that couldn't be sorted with a light spraying of dry shampoo. Overall I'm happy with how the brush performed but like I say, I'm hoping ghd release a more thick hair friendly version of this brush so styling doesn't take quite as long.
Are you a fan of ghd tools?
Shannon xo
(*PR sample)