Want to hear my thoughts on the Eucerin DermatoCLEAN Micellar Cleansing Fluid?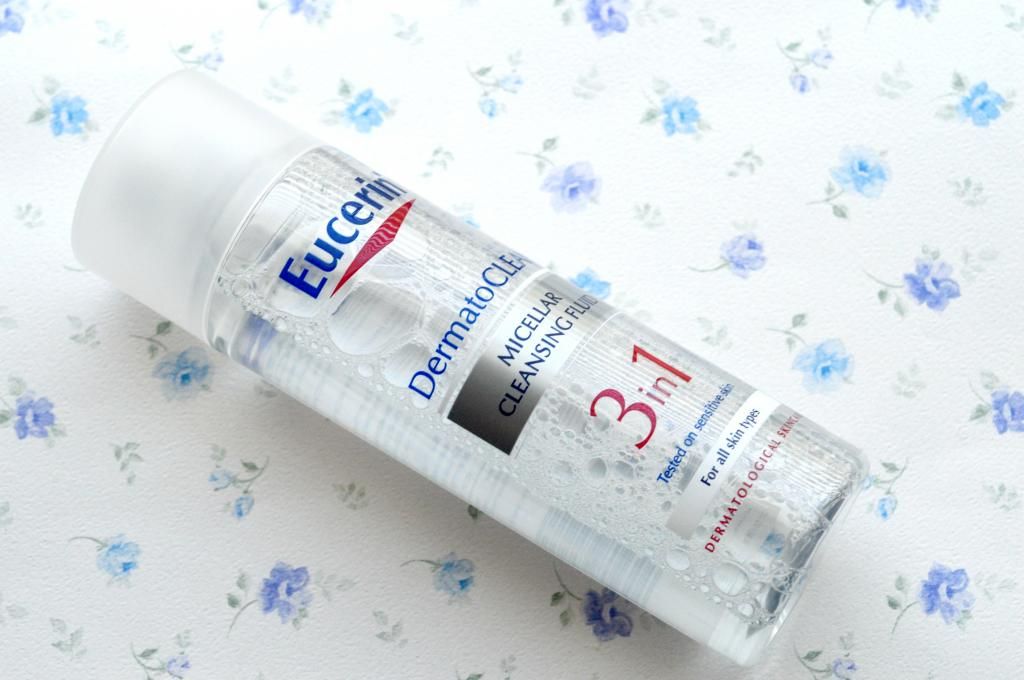 Ever since trying the L'oreal Skin Perfection Micellar Water and the Garnier Micellar Cleansing Water, I've fallen in love with Micellar waters and their wonderful makeup removing properties. Not sure what a Micellar water exactly is? It is basically a type of effective makeup remover which contains clever little things called Micelles. Micelles apparently act like magnets by gently lifting away make-up and other impurities from the skin. This means that you don't have to rub or rinse the skin.  Anyway, enough of the technical, science-y stuff and on to the product…
The
Eucerin DermatoCLEAN Micellar Cleansing Fluid
retails at £9.00 (it is however currently on offer for £7.19) for 200ml and is available to purchase on the Escentual website. It claims to be ultra-light and can remove water-soluble eye make up as well as being able to tone the skin at the same time. It also claims to be non irritating and contains ingredients to both soothe and moisturise. Oh and before I forget it is fragrance, alcohol and paraben free as well as being Ophthalmologically tested (its safe to use around the eye area) Sounds fantastic doesn't it? Well I can say in my opinion it doesn't just sound fantastic, but it is fantastic.
For me the real test when it comes to Micellar waters is when it comes to my mascara removal. The Eucerin product certainly passed the test and removed my Miners Maxi Volumising Mascara very, very well with minimal effort on my part. To remove any form of makeup I simply get a cotton pad, squirt a little product on and sweep over the area, just like how it is directed. Before I know it I'm left with a make up free eye area. During the whole removal process, there is never any form of stinging, irritation or discomfort, the product is very gentle and feels just like water. For other areas of my face I find using DermatoCLEAN prepares my skin well for a thorough cleanse however I must say I have experienced some minor breakouts, particularly on my chin area since using the product. I'm not sure if the product just doesn't agree with my chin area or if it simply a coincidence but because of this I tend to just use it as an eye makeup remover.
One thing that I really like about the product which some people may find weird is the packaging. I understand that to many the packaging will be quite bland and a little boring but it is not the design that I'm a fan of, it is the stopper within the neck of the bottle. Because of the stopper waste is minimised and I don't accidentally end up pouring out a boat load of product which I don't necessarily need like I do with the other waters my collection. In the long run this saves water meaning the product lasts longer so although it is a little pricier compared to my cheaper, more affordable, purse friendly waters, I'm finding the bottle is lasting me that tad longer in comparison. So all in all, it is a pretty darn good product which I'd happily spend my money on.
Are you a Eucerin fan?
Shannon xo
(*PR samples)