What to know what I think of the Skinology Tea Tree Blackhead Cleanser?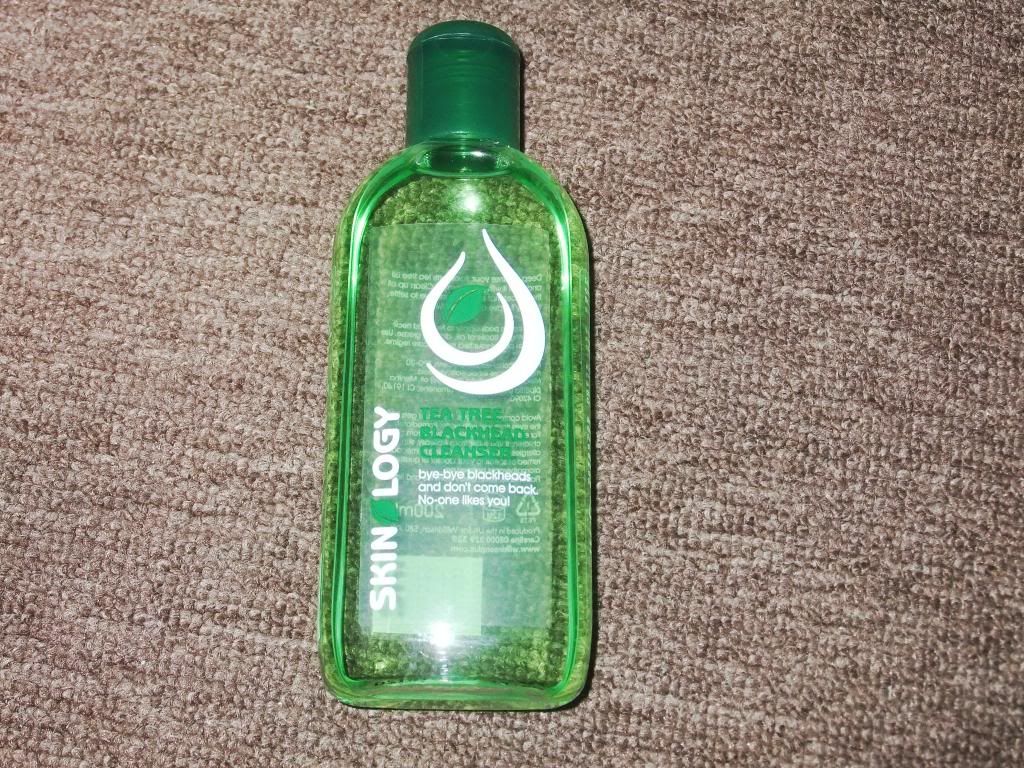 What Skinology Say
"Bye bye blackheads and don't come back! Deep cleanse your face with tea tree oil. "
Price
This bottle contains 200ml and retails for the super duper teeny tiny price of 98p from Wilkinson's.
Packaging
The cleanser comes packaged in this green tinted transparent bottle so it's easy to tell how much product you have left. The bottle houses the product well and keeps it nice and secure.
My Thoughts
When I first looked at this cleanser I was a little baffled as in the bottle it's super duper runny, more like a toner consistency in my opinion but I thought I'd try it and see how well I got on, after all it only set me back 98p, not exactly bank breaking. So I began pouring the runny liquid into the palm of my hand and then onto my face. I made small circular movements like I do with any other cleanser then rinsed with my muslin cloth. I found the cleanser removed my make up rather well, it even managed to start dissolve my mascara. Having said that with my eye make up I cleansed twice, just to be sure I was panda eye free. I will say that the cleanser stung a little on those areas of open skin and blemishes but I expected that from the Tea Tree, it also dried my skin out a little but that was easily fixed with a decent moisturiser. As for my blackheads? Well I've been using this for about a month now and haven't noticed much different but I have noticed my skin to be less spotty, congested and brighter which is definitely a plus.
Pros
Purse friendly
Contains Tea Tree which is a wonderful antiseptic ingredient
Removes make up well
Cons
Can be a little drying
Can cause a little stinging on open cuts and abrasions
Overall
I think for 98p this cleanser is a total steal as it does a fairly good job. Despite not seeing any different in my blackheads, I have noticed that my skin is less congested and brighter. Thumbs up Wilkinson's!
Have you tried any of the Skinology range? What did you think of it?
Shannon xo