Want to know my thoughts on the Boujies Lemon and Verbena Candle?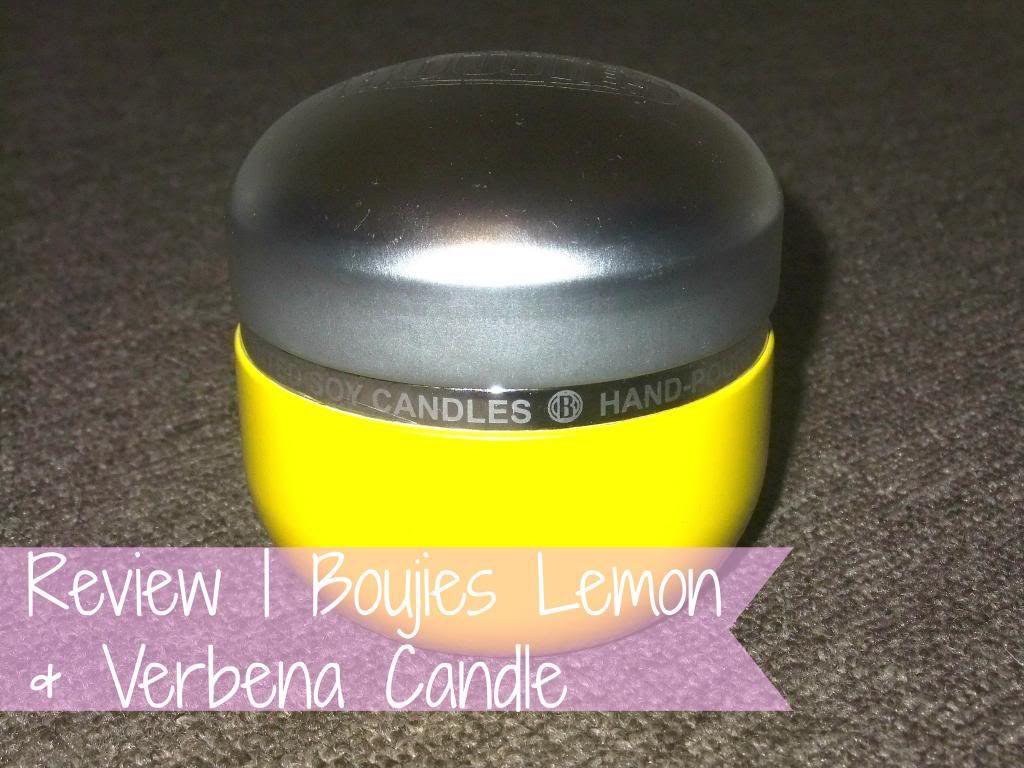 What Boujies say
"A fresh and intense lemon citrus fragrance with a warm and refreshing verbena heart."
Price
The Boujies Lemon and Verbena Candle retails at £12.00 for 300g of candle which is said to have an extra long 35 hour burn time and is available from the Boujies London website.
Packaging
The packaging is very nice and unique. I love the bright yellow shade to match the scent and the lid is a great addiction which I haven't come across before.
My Thoughts
First things first, this candle smells of lovely refreshing lemon with a slight floral hint to it. When burned the fragrance fills the room and the candle burns for hours and hours, I'm not sure on the 35 hour claim, but it does last a very long time. I love having this candle in my bathroom, not only for it's relaxing effect, but because we have an open vent which in the warmer weather means that flies are prone to coming in. Anyway, I'm not sure if the candle contains Citronella (an essential oil known for it's insect repellent properties) but it sure does a good job at keeping the flies away. My only issue with the candle is the wick. For some reason it goes black and utterly charred within seconds of lighting which causes it to crumble. It burns much, much quicker than the wax for some reason. Because it crumbles and falls off, it makes re lighting the candle a bit of a task as the only wick left to burn, it in the wax.
Pros
Reasonably priced
Nice and unique packaging
Lasts for hours and hours
Hand-poured
Made with 100% environmentally friendly natural wax blended with the finest essential oils
Lovely smell that fills the room
Keeps pesky flies away
Cons
Wick tends to crumble which can make it difficult when re lighting
Overall
Although the wick can be rather annoying, the candle it's self is fab. I adore the scent and the long burning time. I think this would be the perfect candle to have during the warmer weather to really keep those annoying flies at bay. The fact that it's made from 100% environmentally friendly, natural wax and that it's hand poured, makes it all the more better.
Have you tried any Boujies London candles?
Shannon xo
(*PR Sample)