Want to know my thoughts on the Vitage Micro Skin Polish?
What Vitage Say
"Suitable for all skin types, especially tired or dull skins in need of an immediate boost, this is an exfoliating and polishing treatment designed to smooth and resurface the skin. Through harnessing the exfoliating properties of micronized diamonds and pearls, this polish reduces imperfections, removes dead skin cells and evens up skin tone ensuring a new level of skin rejuvenation.
Directions for use
Simply massage a 10p piece size of product into freshly cleansed, dry skin for 30-60 seconds and remove with warm water.
Skin Advisors Tips
For skin in need of a quick fix this is designed to be a one minute solution for an instant skin pick me up."
Price
The Vitage Micro Skin Polish retails at £27.00 for 100ml and is available from Cosmestore.
Packaging
The packaging is fairly simple yet classy, effective, clear to read and holds the product well.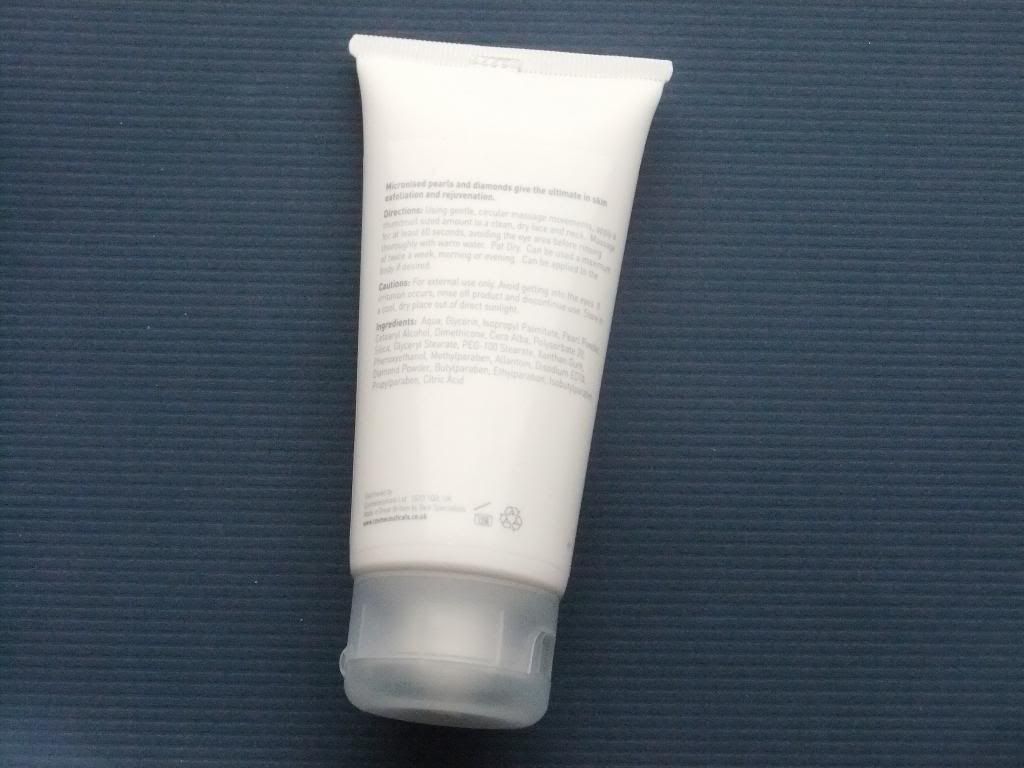 My Thoughts
This product is a gem. The fact that it contains micronized diamonds and pearls makes me love it that extra bit more. You know what they say, diamonds are a girls best friend! This is a fantastic home friendly alternative to popular salon Microdermabraisions as it gives quite similar results in the sense that it helps to even out the skin texture and tone, it effectively gets rid of those nasty dead skin cells and it brightens the appearance of the skin. I've been using this for around about a month now and I've definitely noticed my acne scars improving as well as my skin become less congested, brighter and of course my dry patches have improved too. Now I know £27.00 is a lot to pay for a product, but a little goes a long way, therefore this would last you quite a while and if it's smooth, bright, clear skin you're after, this will definitely help you along the journey. Although this product is great, it can be quite abrasive so if you're a sufferer of sensitive skin, I'd stay away from this.
Pros
Classy, effective, clear to read and secure packaging
Gives results similar to a salon Microdermabraisions
Effectively removes dead skin cells
Helps to even out skin texture
Brightens the appearance of skin
Helps to give a clearer complexion
A little goes a long way
Cons
Pricey
Can be quite abrasive
Overall
This is a smashing product (No, I'm not Nigel Thornberry) especially if you're after a home friendly alternative to salon Microdermabrasions or even if you just want to tackle those dry areas. Having said that, it's on the pricey side and can be quite abrasive which probably wouldn't be ideal for those sensitive skin sufferers out there. Personally, I love it but I don't think I'd pay nearly £30 unless I really, really wanted similar results to a intense salon treatment in my own home that would help with scaring as well as dry skin and a whole host of things. If it's a simple fix for dry skin you're after, there are much cheap alternatives on the market but if you're after a fancy product, capable of tackling many things, this may be for you.
Have you tried the Vitage Micro Skin Polish? Are you a fan of Microdermabraisions?
Shannon xo
(*PR Sample)