So I was tagged by the lovely Bex from Futures to complete The One and Only tag which was created by Angelica from One Little Vice. Basically if you could only have one _____ what would it be and why? Here's what I'd choose…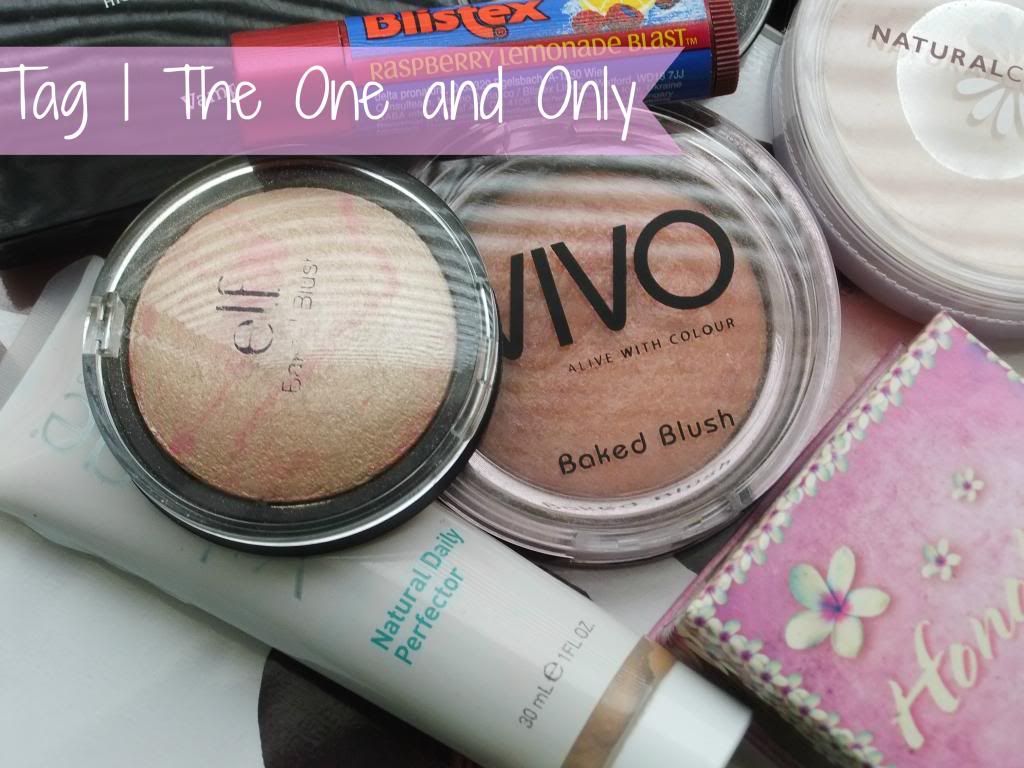 Base Product – I'd have to say my
Veil Cover Cream
as it provides a spectacular flawless look.
Concealer- Again, Veil Cover cream!
Blush (cream or powder) –
VIVO's Baked Blush in Peaches and Cream
as it's probably my most used blush and it gives a nice glowy look.Bronzer – I'm not a big lover of bronzer but the
W7 Honolulu Bronzer
is definately something I've been reaching for a lot lately. It's dark but when used lightly, it works well on my pale skin and isn't orange in the slightest which for me is a big plus.
Highlighter –
ELF's Pinktastic
is superb. It contains just the right amount of shimmer and has a pink undertone that works well on me.
Make Up Brush (single) – Definitely the ELF Studio Powder brush. I use it every day and love the finish it gives.
Eyebrow Product – HD Brows palette in Vamp as the shade Dark Brown is a perfect match for me and the quality is excellent.
Eyeshadow (single) – MUA's Shade 2 is much loved in my collection. It's a cracking inner corner highlight shade that really opens the eyes up.Eyeliner – I'm not a big eyeliner user but I am fond of Soap and Glory's Smoulder Kohl in Superblack.
Mascara – For the past few weeks I've been using Cargos Better Than Waterproof Mascara and have really been liking it so I'd have to choose it. It gives lashes fab length and the holds curl pretty well.
Lipstick, Lipgloss or Lip Stain – Tough one. I'd have to say a product that's fairly new in my collection,
MAC's Cremesheen lipstick in Creme Cup
as it's perfect for everyday wear and would look really nice with a smoky eye.Lipliner – MUA's Pink Me Up is gorgeous. I actually like to wear this all over the lips as it has top notch staying power.
Lip Balm – Blistex Rapberry Lemonade Blast lip balm purely because the scent and taste is out of this world.
Nail Polish – Sally Hansen's Grass Slipper. Because as sad as it sounds, the shade instantly puts me in a great mood.
Have you done this tag? Leave your links below so I can have a nosey!
Shannon xo