Want to see what goodies I got in my March 2014 Best Of British You Beauty Discovery Box?
This months You Beauty Discover Box is Best Of British which focuses on Great British beauty and skincare brands. I for one love a good home-grown brand so was really excited to receive this box.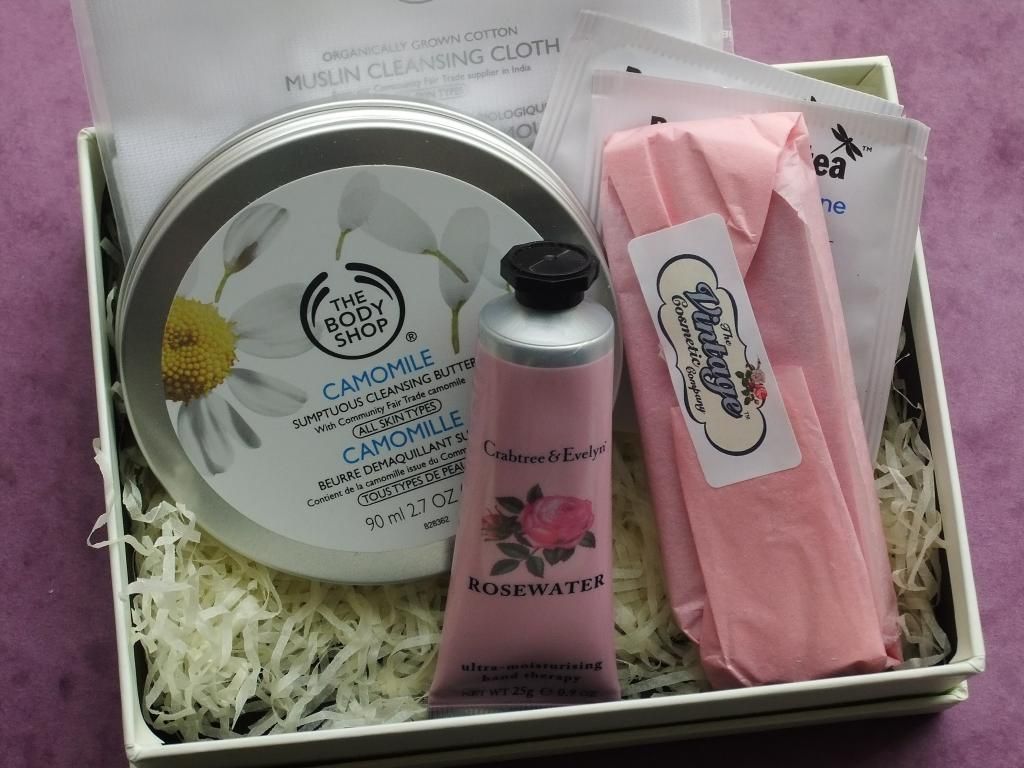 The Body Shop Camomile Sumptuous Cleansing Butter and Muslin Cloth 90ml (Full Size) RRP £12.00
I've never in my 19 years of life tried a cleansing butter so when I saw that this Body Shop product was available to pop into my box, I quickly added it. At 90ml this product is full size and normally retails at £12.00 so straight away I got my monies worth for my £6.95 box. I've not tried the butter out yet but I'm excited to see how it differs from gel and cream cleansers.
Crabtree and Evelyn Rosewater Ultra-Moisturising Hand Therapy 25g (Travel Size) RRP £5.00
Next up I chose this lovely scented hand cream from Crabtree and Evelyn, a brand I've heard lots about but never tried. I'm a big fan of Rosewater as it reminds me of delicious Turkish Delight and of course I absolutely love it's soothing properties so I can see this product being great for my sore hands.
The Vintage Cosmetic Company Toe Separators (Full Size) RRP £3.75
For my extra treats, the first thing I received were some toe separators. I'll admit, toe separators aren't the most exciting product in the world, but no doubt they'll come in handy during my weekly toe painting regime and hopefully prevent any messes and mistakes that may occur.
Dragonfly Tea Moonlight Jasmin Organic Green Tea and Cape Malay Chai Organic Spiced Rooibos Sachets
And finally I received some sachets of tea and a money off voucher from a brand called Dragonfly Tea. I've not heard of the brand before and in all honesty I'll probably pop these into my cupboard for a rainy day. I'm personally an English Breakfast Tea kinda girl who doesn't really branch out much when it comes to flavoured teas and 99.9% that I've tried, I've not liked. I mean I will try them at some point but I can honestly see myself pouring them down the sink.
Overall my box came to a total of £20.75 and I paid just £6.95 for it. I'd say that is a pretty good deal. The box has got me pretty excited for next months which is apparently going to be all about Natural and Organic products which sounds fab.
Are you a You Beauty Discovery Box subscriber?
Shannon xo