Want to know my thoughts on the MeMeMe Goddess Rocks?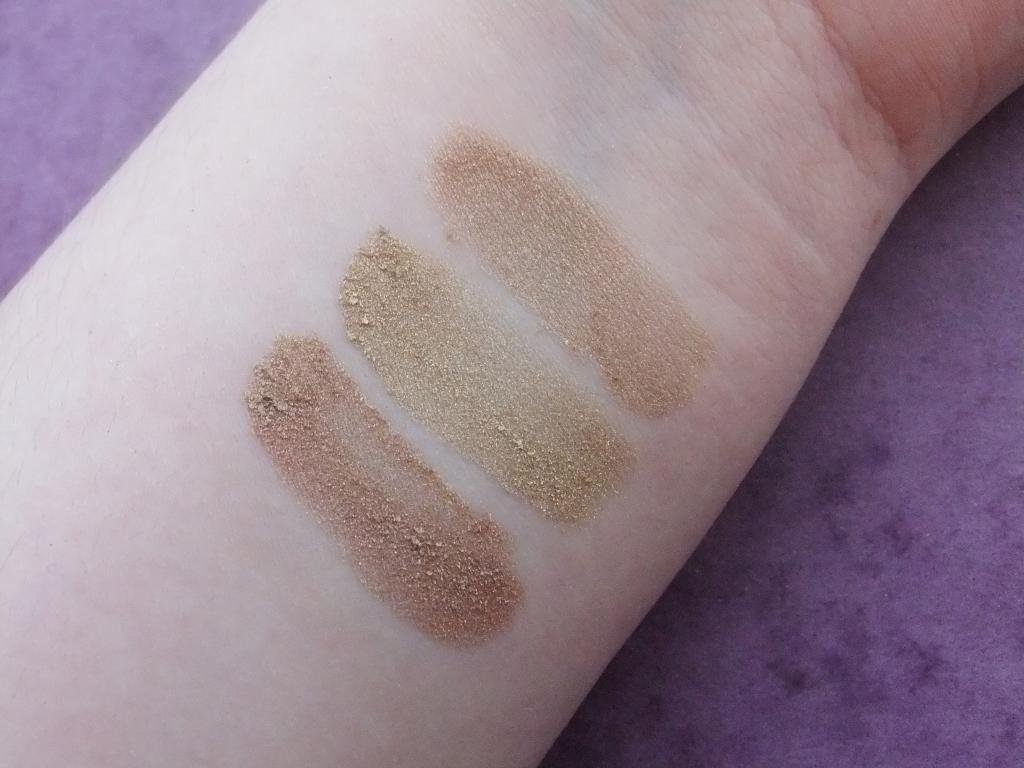 With Summer fast approaching, I'm slowly but surely starting to grab my bronzers from my makeup drawers. When it comes to the Summer season, I find it's nice to add a hint of bronzed glow into my life to make me look less vampire like and more human hence where the MeMeMe Goddess Rocks come in. If you're not familiar with the product, it's basically a big tub of bronzing rocks. The tub contains two shades of rock, a rose gold shade and a more bronze colour.
In terms of size you get 27g of product and the MeMeMe Goddess Rocks retail at £12.50 and are available to purchase on the MeMeMe website. Although not the priciest product on the market, I kinda think that for a "drugstore" or highstreet brand it's a little steep however, it is good to keep in mind that when using the product you only need a little so the tub is sure to last quite a while. As for the packaging, well, I personally like it as it has a gorgeous design which I find is a running theme when it comes to MeMeMe products however I can't help but feel the cardboard packaging is a little on the flimsy side and although it's still in tact at the moment, if not stored correctly I could see it looking a bit worse for wear in the future. The little tub also contains a sponge which I'm guessing is to prevent the rocks from bashing around the tub.
Now onto the product its self. I've mentioned a million and one times that I struggle when it comes to finding bronzers that are suitable for my pale complexion. I recently did a blog post about
Bronzers For Pale Skin
and if you check it out you'll see that the ones I use are very fair (One is actually considered more of a highlighter for most people!) One product I've never really got on with is bronzing pearls/rocks. I always find no matter what the brand, they're always too orange and too dark for me however, I think I've finally mastered the art and found a product that works for me.
As mentioned previously the MeMeMe Goddess Rocks contain two shades and when worn separately they look great (I particularly like the rose gold shade, it's stunning) but I really, really like them when combined together. To apply I simply swirl a huge fluffy brush into the tub and then pop onto my skin. I've found my absolute favourite place to use the product is my shoulder/chest area as it gives an amazing shimmery, sunkissed look. I've also tried the rocks on my face and surprisingly on my eyes as I find the brilliant pigmentation and silky texture makes them fabulous to use as eyeshadows but of course a little primer is required to prevent the slight fall out they give. Does the product look orangey on me? Ever so slightly but with the help of my blending brush, I can get away with it as once blended it doesn't look to harsh or obvious. One thing I will say though is that when swirling your brush in the buttery soft rocks, you do have to be careful as the pigmentation can be a little overwhelming at first and to get a sort of natural look, a light hand is definitely required. In terms of longevity, the bronzer lasts around 5-6 hours on the skin before you notice fading and the micro glitter travelling.
Overall I really quite like the MeMeMe Goddess Rocks and I can see myself getting some really good use out of them in the Summer when I get my vest tops and short sleeve dresses out. Of course the product isn't the most purse friendly however, due to only needing very little product, I can see it lasting a long time.
Are you a fan of MeMeMe?
Shannon xo
(*PR sample)