Want to see what goodies I got in my May 2014 Degustabox?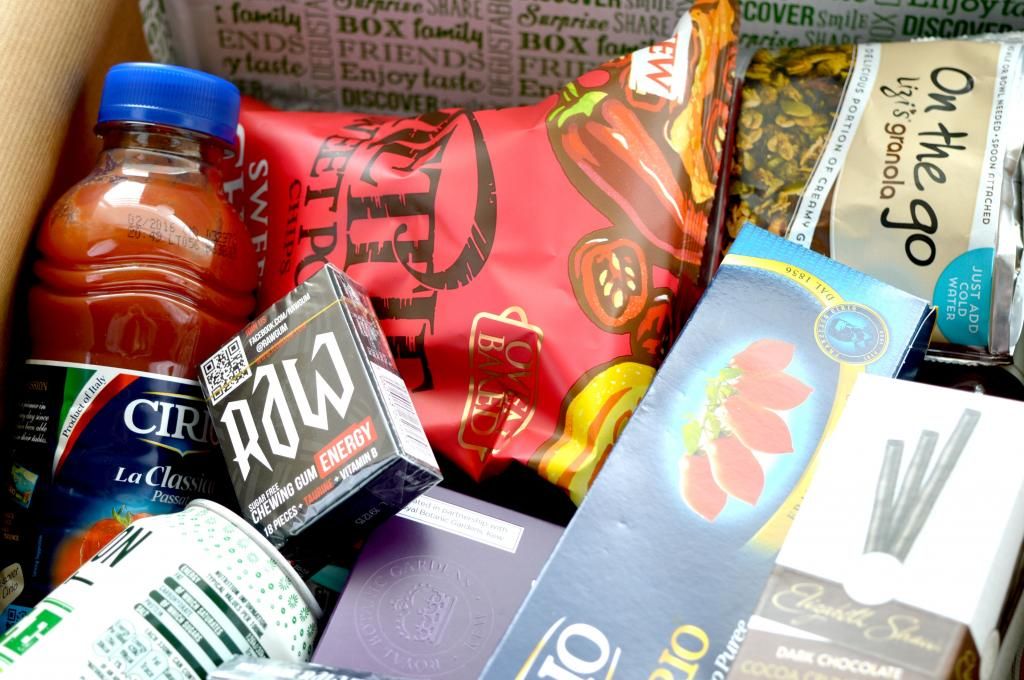 Recently I was contacted by the lovely people over at
Degustabox
and asked if I fancied trying out their May 2014 box and of course I agreed as lets face it, I'm a big foodie fan and although I can be somewhat picky when it comes to food, I thoroughly enjoy trying out new things. If you're not aware of Degustabox, it's a box full of between 10 and 15 surprise foodie items. The box its self retails at £12.99 per month or if you pay biannually you get your boxes for £11.99 a month and you're said to pay a lot less for the Degustabox than you would if say you went and bought each item individually in the shops. Like previously mentioned Degustabox release a new box every month. What can you expect to see in the boxes? Well it's a complete surprise but brands previously included in the boxes have been Dr Oetker, McVities, Lindt, Crabbies, Schwarz, Tyrrells, Soreen, Ryvita and Maggi to name a few so expect to see big brands and of course some smaller ones which are waiting to be discovered. Here's what I received in my box: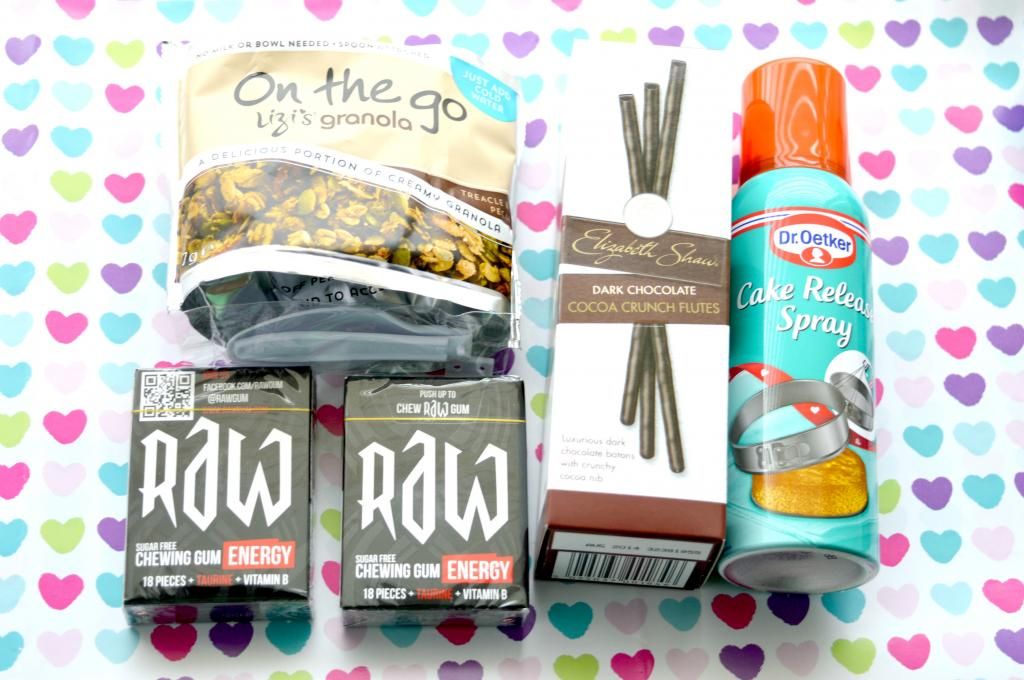 Lizi's On The Go Granola
I actually received a little sachet of this in a beauty box not long ago and despite not being the biggest granola gal in the world, I still gave it a go. To be honest it wasn't the nicest thing I've ever put in my mouth but as far as granola goes, it wasn't at all bad. I'm sure I'll no doubt demolish it at some point.
RAW Chewing Gum
The next thing (or things in this case) I spotted were two packets of RAW chewing gum which appeared to be energy flavoured. I'm partial to a piece of gum every now and again so this was something I was definitely looking forward to trying. I have in fact tried the gum and I can hand on heart say it's very more-ish and I am certainly a fan. The flavour tastes very much like an energy drink and although it tastes good I was a little disappointed that the taste seemed to disappear a little quicker than I'd expected but despite this, I will probably repurchase a box or two to keep in my bag for things like long and boring bus journeys.
Elizabeth Shaw Dark Chocolate Cocoa Crunch Flutes
Next up I spotted some chocolate. Unlike a lot of people I know, I love dark chocolate but I'd never tried a chocolate flute so I was keen to see what the Cocoa Crunch flutes were all about. Basically they're like long, thin wands of chocolate but they have a very, very slight crunch to them. I thoroughly enjoyed the flutes and so did the rest of my family as not long after receiving my Degustabox, they were all gone! They were definitely a hit.
Dr Oetker Cake Release Spray
It's not often I get my baking groove on but when I do I often find my baked goodies and treats to stick to the trays that they are placed upon which can be very frustrating (This mainly occurs because I always, always seem to forget to grease my tins and trays) however, this Dr Oetker Spray sounds fab for eliminating my problem. It's basically an oil spray which you spray onto your trays before pouring your cake mixture in. Of course I'll still have to remember to spray it on but it'll mean that I won't have to get my hands all buttery and greasy during the greasing process. Dr Oetker say that the Cake Release Spray is particularly good for large or irregular shaped tins so I think it will be interesting to see how well it works.
Kettle Sweet Chilli Sweet Potato Chips
I love, love, love Kettle chips. Since being in a relationship with Marc, it's like a little tradition for us to pick up a bag to share when we have a weekend together. We've become partial to Mature Cheddar and Red Onion, Sea Salt with Crushed Black Peppercorns but I think our favourite would have to be Sweet Chilli and Sour Cream. Although they're deliciously good, they're actually quite high in fat which is a shame. The ones I received in my Degustabox were the Sweet Chilli Sweet Potato Chips which are said to have a whopping 50% less fat due to being baked which is great if you're a guy or gal who is watching their figure. Much like the Elizabeth Shaw Dark Chocolate Cocoa Crunch Flutes, not long after receiving the box and passing the crisps round the room they were all gone. I must say, they were very yummy and tasted just as good as Kettles regular chips. The taste was nice and sweet with a slight kick and they certainly didn't lack flavour which sometimes can happen when it comes to "healthier" crisps.
Taylors of Harrogate Blackberry and Elderflower Tea Bags
I have a love hate relationship when it comes to tea. If we're talking about your classic English breakfast tea, I'm a big fan and like to sip a couple of cups a day (I take mine nice and milky, with two sugars) but when it comes to fancy fruit teas, I'm yet to come across one I really like. What normally happens is I make myself a mug and for the first 5 or so sips I think "this is actually quite nice, I reckon I can get through this mug and enjoy it" after that it always seems to turn into a losing battle with me forcing myself to drink the tea but fingers crossed the Blackberry and Elderflower Tea from Taylors of Harrogate can change my opinion on fruit teas.
Hornsby's Crisp Pear and Crisp Apple Cider
I then received two bottles of Hornsby's cider. One Crisp Pear flavour and one Crisps Apple flavour. Now not many people know this but I don't drink alcohol so I passed the two bottles on to my mam who very happily accepted. So far she's tried the Crisp Pear flavour which she said was very nice and was eager for another bottle. She hasn't tried the Crisp Apple one yet but if it's as tasty as the other bottle, I'm sure she'll enjoy drinking it.
Cawston Press Cloudy Apple Drink
One drink I did receive and eagerly opened was this can of fizzy apple juice from Cawston, a brand I've never heard of. I love apple juice but apart from Apple flavoured Tango, I've never tried a fizzy one. After a few sips I found myself really enjoying the drink. I sometimes find apple juice can be overly sweet which can be very, very off putting but the Press Cloudy Apple drink was just right and very refreshing. I think it'd be perfect for sipping out in the sun on a hot Summers day if like me, you're not an alcohol drinker.
Cirio La Classica Passata, Cirio SuperCirio Tomato Puree and Garofalo Elicoidali Pasta
Then I received these three gems which I feel work absolutely perfect together. I've personally never heard of the brand Cirio but after trying the products I can safely say I'd recommend them. As for the pasta, it's massive but very, very tasty. I actually have a recipe including all three of these ingredients coming up so be sure to keep your eyes peeled for that.
All in all I'd say Degustabox is definitely worth checking out. If you do fancy giving it a whirl don't forget to use the discount code:
IJWHW
to get £3.00 off when you register. Also, be sure to check out Degustabox on
Facebook
and
Twitter
.
Are you a fan of food subscription boxes?
Shannon xo
(*PR sample)