Want to know how to make Mini Tortilla Pizzas?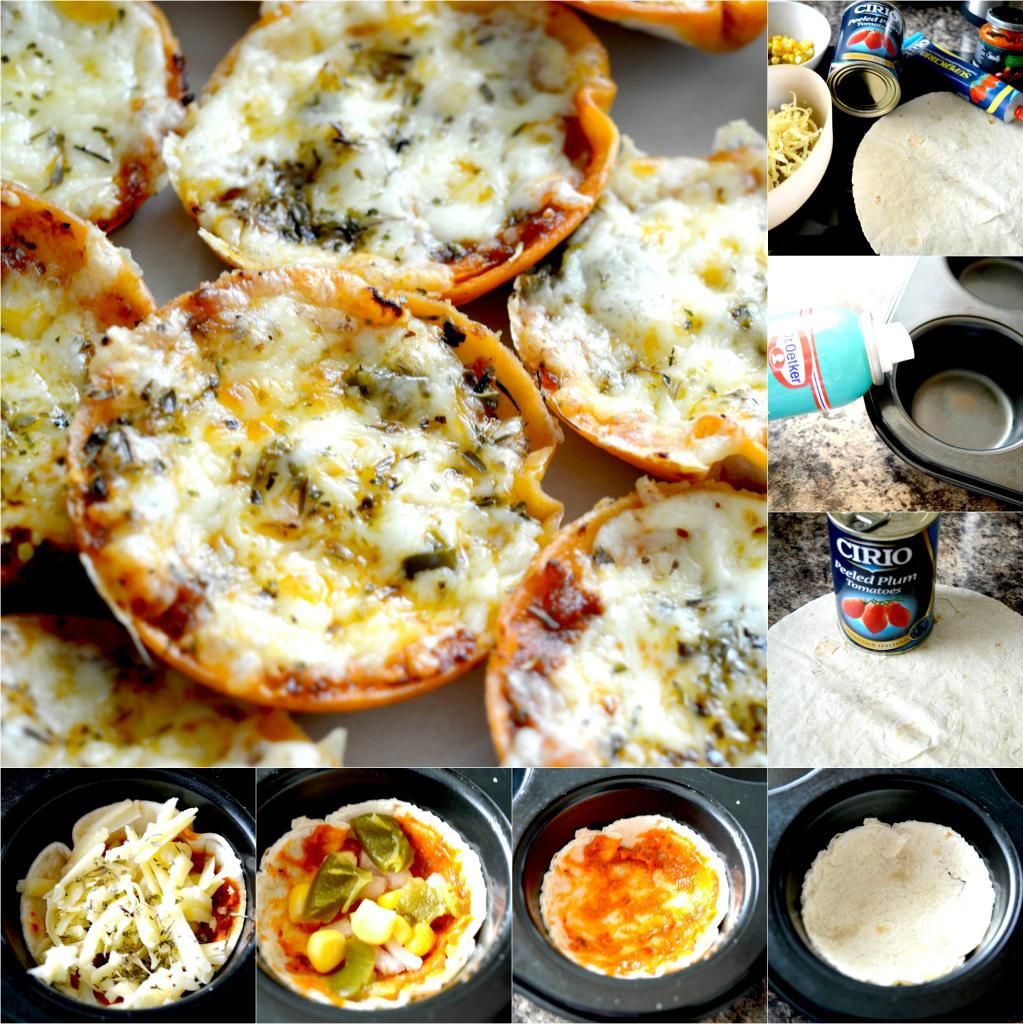 Lately I've been obsessed, and I mean OBSESSED with
Pinterest
. I love pinning pretty images (or pins as they're known over there) and I feel like since using the site more and more I've been inspired to create, make, bake, cook and organise more. One of my favourite things to pin at the moment are delicious looking foods, particularly simple, easy dishes. Recently I came across the whole Mini Tortilla Pizza craze and I was amazed. After looking at lots of pins, I then decided to give them a whirl on a boring Thursday afternoon to try and distract myself from a mild, easing off migraine. I attempted to do so with my own little tweaked recipe. Most of the recipes I've come across are practically the same and I'm not 100% sure who the original maker of the genius ideal was so I've created a whole
Mini Tortilla Pizza board
over on Pinterest which is packed full of the recipes and variations which I came across in case anyone is interested in seeing what others have come up with (seriously, check them out) I think these mini pizzas would be fantastic for parties and events where you need some little nibbles (As sad as it sounds I'm planning on making another batch for my own upcoming birthday family get together) Here is how I made them:
What I used (Makes approx. 12)
2 Tesco Plain Tortilla Wraps
Cirio SuperCirio Tomato Puree*
Aldi Specially Selected Tomato and Mascarpone Stir Though Pasta Sauce
Half a White Onion
Quarter of a can of Sweet Harvest Sweetcorn
Quarter of a jar of Old El Paso Sliced Green Jalapeños
Large handful of grated mild Cheddar
Pinch of mixed herbs
Dr Oetker Cake Release Spray*
Utensils/tools I used:
Yorkshire pudding/muffin tin
Standard sized food can to use as a cutter (I didn't have a cutter big enough)
The obvious (spoons for the sauce, plates to place the pizzas on and a knife to chop the vegetables)
Step 1:
The first thing I did when preparing the quick, simple and easy dish, after I chopped and grated was spray the tin with the Dr Oetker Cake Release Spray which I received in my
May 2014 Degustabox
. I know it says that it's ideally meant to be used for cakes but I was feeling like a rebel and decided to break the rules. In all honesty it worked well. It didn't alter the taste or anything but prevented the little pizzas from sticking to the tin, making removal easy peasy.
Step 2:
Once your tray is all greased up you can begin cutting your tortilla wraps. I didn't have a cutter big enough so I used a tin as I'd saw others do the same. It did the job nicely and I managed to get around six circles from each wrap.
Step 3:
Now that you've cut your circles you want to add them to your tray. Simply push them in and mould them around a little and hey presto, you're good to go.
Step 4:
It's time to add your sauce. I normally would have made my own tomato sauce but I simply could not be bothered so I went for a mixture of Cirio SuperCirio Tomato Puree* and an old favourite, Aldi Specially Selected Tomato and Mascapone Stir Through Pasta Sauce. By a mixture I mean I did half the pizzas with each sauce, I didn't mix the two together. I simply squeezed and spooned the sauces on ready for the toppings.
Step 5:
At the time of making these tasty little bites, we didn't have many topping friendly ingredients in like chorizo, pepperoni, mozzarella, peppers, ham, pineapple, beef, spinach etc. Instead I just used what we had in. I opted for onion, sweetcorn and jalapeños. I simply added the veg on top of the sauce covered wrap bases and on I went.
Step 6:
To complete the pizzas, I generously covered them with mild cheddar and topped with a sprinkling of mixed herbs for good measure. I then popped them into the oven at 200C (I have a fan oven) for 10 minutes.
Step 7:
Once they'd been in the oven for 10 minutes, I popped the teeny treats on plate for 5-10 minutes (ideally you should use a cooling tray, however I couldn't find ours) During this time they slightly hardened, cooled and become a little easier and less messy to pick up and eat. Once cooled enough so you can pick them up or until the point where you can no longer resist them, devour until your heart is content (or until they're sadly all gone)
Are you a Pinterest lover? What simple, easy recipes do you love?
Shannon xo
(*PR samples thanks to Degustabox)