Want to know my thoughts on the GR8 SKN skincare range or fancy winning yourself the entire range?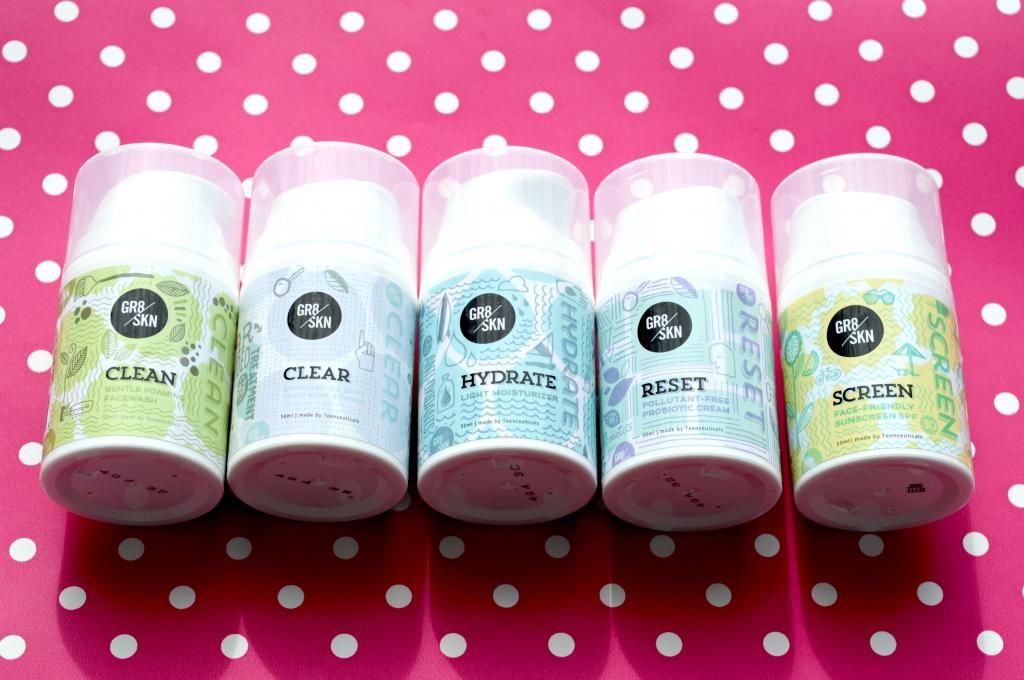 Today I bring you a post all about a brand called
GR8 SKN
. Haven't heard of it? Well GR8 SKN is made by Teenceuticals, a company that is dedicated to developing natural skincare products specially for teens. This means that their products are designed to help improve problem skin but are said to offer what harsher products don't, they keep skin healthy in the long run. The company was founded by a South African lady called Dr. Janine Ellenberger who has over 15 years of experience in skincare and cosmetics. She actually started Teenceuticals for her own teenagers as she wanted to give them effective, gentle skincare products to help keep their skin healthy and clear up acne. After finding nothing on the market, she decided to make products that had firm research behind them and with a vision that achieving clean, clear skin can be simple, healthy and even fun, Teenceuticals and GR8 SKN were born.
Today the GR8 SKN range contains natural ingredients like honeybush tea, lavender oil and honeysuckle. Why natural ingredients? Well GR8 SKN say that because the skin is the largest organ in the body, even though it is defined to protect us it is very absorbent and the use of chemicals and high doses of preservatives can harm not only our skin, but our bodies too, causing things like acne and even long-term problems like dryness.
Teenceuticals also believe in caring for the planet (which I often find a rarity with many companies so I was pleasantly surprised to hear this) All their products are biodegradable and FDA approved and their packaging is mostly recyclable and uses post-consumer materials. What are the products like? Well here are my thoughts…
GR8 SKN describe this as a gentle foaming facewash that contains honeyhuckle and clay. It also claims that it doesn't dry the skin out. When I first tried this product I fell in love with the scent, it smells nice and refreshing with a very, very slight orange scent about it which is just lovely. The facewash itself has a gel like consistency and when rubbed all over the face, it transforms into a lovely foamy lather. As for how effective it is, when it comes to makeup removal it takes it off nicely, even camouflage products which I was very impressed with. It also cleans the pores well too as after use my skin looked significantly better and brighter. After use I was expecting my skin to feel slightly dried out as the wash had given my skin such a good clean but instead it felt nice and soft, not at all dry or tight. I think this is to do with the wash being the same PH as my skin as GR8 SKN claim that it means your skin doesn't have to readjust it's PH but I'm no expect when it comes to that sort of thing.
Next up is their exfoliating spot treatment and toner. To be honest when I first tried this I was a little confused as I was either expecting it to contain some form of exfoliating beads or be a liquid toner. Instead it's a sort of liquidy gel that is quite strongly scented. (It contains Chamomile, Geranium, Rosemary and Lavender to give you a rough idea of how it smells) The packaging said to use this product twice daily or as a toner so I opted to give it a whirl on my blemishes and breakouts by simply popping a little on the top of the spots to see what magic it could possibly work. Not long after applying I experienced a ever so slight tingly sensation which wasn't the nicest in the world but it was bearable. Like a good trooper I grinned and bared it for the entire month of trying out the products and I have to say I am glad I did as each time I used the treatment I noticed improvement which was great to see. It certainly wasn't the most relaxing, indulgent thing I've tried but it worked.
We then have the Pollutant-Free Probiotic Cream which is a serum designed to "help normalize your skin" basically by this GR8 SKN claim that the cream stops the excess oil production which is what causes unwanted breakouts. Again, I'm no skin expert, I have a basic understanding of the anatomy and how it works so I can't really say whether this is true or not but whenever I apply the serum to my face, I find my skin to be less oily and shiny. I will say that I only ever use this on my oily areas, never my dry as after my first experience using this, I smothered it all over my face which resulted in my dry patches feeling a little "tighter" than usual. Apart from that, the product works well and is very handy now that my skin is prone to more shine during the hot weather.
Let's be fair, no skincare collection would be complete without a moisturiser and this water based cream certainly doesn't disappoint. This stuff is lightweight and a little goes a very long way (I use around half a pump for my entire face) This moisturiser, much like the rest of the range is strongly (but pleasantly) scented. It's very refreshing and has a lovely effect on my skin. Often getting a single moisturiser to work on my combination skin is a tricky task but it treats both my dry and oily areas. It hydrates my skin very, very well leaving it soft and smooth but does so without causing it to be greasy or shiny. I think GR8 SKN have really hit the nail on the head with this one!
And last but not least we have the Face Friendly Sunscreen that has a brilliant SPF of 30. Now that the warmer weather is upon us and the sun is shining, this stuff is essential for when it comes to protecting the skin (To be fair, sunscreen should be worn all year round but I know a lot of us forget) The GR8 SKN Sunscreen is one of those gems. It's very lightweight and sinks into the skin very well due to it's fab texture which melts into the skin. What I really, really like about it though is the scent. Traditional sunscreens have that very generic scent and I have to be honest, I'm not too fond of it, I just find it to sometimes be very sickly and well, a little boring but GR8 SKN's product has a incredibly delicious smelling watermelon fragrance to it. It's just an effective product which protects the skin well and leaves you smelling really nice.
Overall I thoroughly enjoyed trying out the range and have even noticed improvement to my skins feel and overall appearance. So, do you fancy winning the entire GR8 SKN range? Well the lovely people over at Teenceuticals have given me a set consisting of five 50ml products from the range. If you want to be in with a change of winning it, simply follow the rules below and enter via the Rafflecopter widget.
To be in with a chance of winning the GR8 SKN Skincare Range simply enter via the Rafflecopter widget below
Those using multiple accounts to enter will be completely disqualified
The giveaway is open internationally

ALL

mandatory entries

MUST

be complete or you will be completely disqualified (Mandatory entries are the six that appear on the Rafflecopter widget before you are able to unlock any other entries)
The giveaway will run from Wednesday 18th June 2014 until Friday 18th July 2014 12:00am BST (One month)
Once the giveaway is over I will contact the winner directly via email. Once an email is sent the winner will then have 48 hours to reply before a new winner is chosen
Good luck!
Shannon xo
(*PR samples)