Want to know my thoughts on the Sigma Imitation eBay Brushes or fancy winning yourself a set?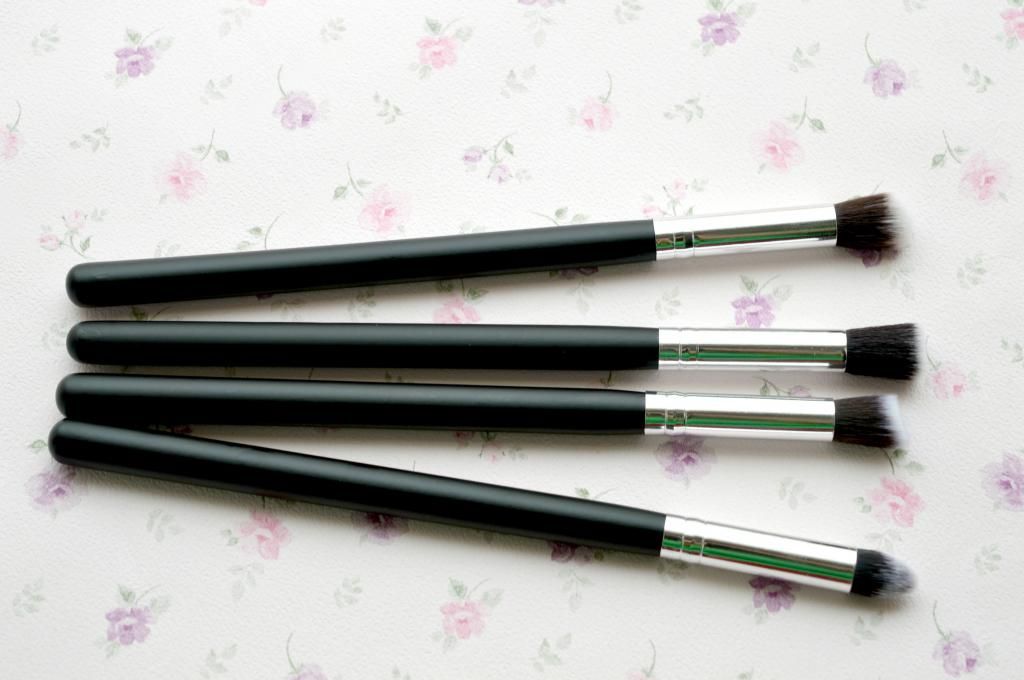 When it comes to buying makeup brushes, it can often get pretty pricey but one place where I like to buy mine from is eBay. I know when it comes to cosmetics eBay can often be seen as a sort of dodgy site but in all honesty when it comes to their makeup brushes, I've never ever had any issues with them. Of course I have purchased my fair share of scratchy, not so good brushes but I've also picked up some gems on there such as my two imitation Real Techniques dupes and these bad boys.
The Synthetic Small Cosmetic Blending Foundation and Concealer set
that I picked up contains four brushes for just $4.32 (£2.55) I will say, one thing that lets eBay down massively is the shipping time. A lot of the sellers are based in China and Hong Kong (including the seller that I bought the brushes from) so they do take a little while longer to arrive than if say you bought something from a seller here in the UK. For the brushes I received them around a month after buying them which from experience I've found pretty standard. When purchasing just keep in mind that patience is a virtue and although it may feel like you've spent a lifetime waiting for them to turn up, they will eventually show up. Also, I've heard these are great dupes for Sigma brushes however, I don't own any so I'm afraid I can't compare them. Anyway, here are my thoughts on the brushes:
The first brush I got was the Flat Top Brush. Although these brushes are described as both concealer and foundation brushes, I'd say they're a little too small for foundation but that's just my opinion. This brush is sort of like a mini stippling brush. I like to use it to stipple my concealer on to achieve that flawless finish that we all know and love. It's also great for dusting a little powder over the top of concealed areas to help set the product.
The second brush I got was the Round Top Brush. This brush is ideal for blending out concealer, especially for under the eyes. It can also be used as an eyeshadow blending brush but it is a tad on the large side so it's not the best for when it comes to precision of really small, specific areas like the crease, it's much better for all over blending.
The third brush I got was the Angled Brush. This is fairly similar to the Flat Top Brush in terms of feel but it obviously has that angled cut. I find this wonderful for applying concealer around my nose but if I'm totally honest I wish it had been slightly better cut as some of the "hairs" were longer than the rest but I seemed to tackle the issue with a trusty pair of nail scissors.
Last but not least I got the Tapered/Pointed Brush. This is another brush which is ideal for getting into those nooks and crannies of the face for applying concealer and blending. I do wish it was slightly smaller as I reckon it could have been top notch for applying an inner corner eye highlight if it wasn't as big but hey ho.
For the price these brushes are fantastic. They're all very soft and work well at applying concealer to the face. They are quite big for concealer brushes so if you're after something to really target those small individual blemishes, I'd recommend checking out other brushes as I find these are more for tackling areas such as under the eyes and nose. One thing that I have noticed is that shedding is very minimal with these, even when washed which I found impressive. In terms of the handle quality, they feel well made, strong and not at all cheap. The brushes get a massive thumbs up from me.
Fancy winning a set? Since falling in love with the brushes I ordered another set for a lucky person out there to win and try. All you have to do to enter is simply follow the rules below and enter via the Rafflecopter widget.
To be in with a chance of winning a set of Sigma Imitation eBay brushes simply enter via the Rafflecopter widget below
Those using multiple accounts to enter will be completely disqualified
The giveaway is open internationally

ALL

mandatory entries

MUST

be complete or you will be completely disqualified (Mandatory entries are the three that appear on the Rafflecopter widget before you are able to unlock any other entries)
The giveaway will run from Saturday 14th June 2014 until Monday 14th July 2014 12:00am BST (One month)
Once the giveaway is over I will contact the winner directly via email. Once an email is sent the winner will then have 48 hours to reply before a new winner is chosen
Good luck!
Shannon xo