Want to hear all about Ilumi Free From Food?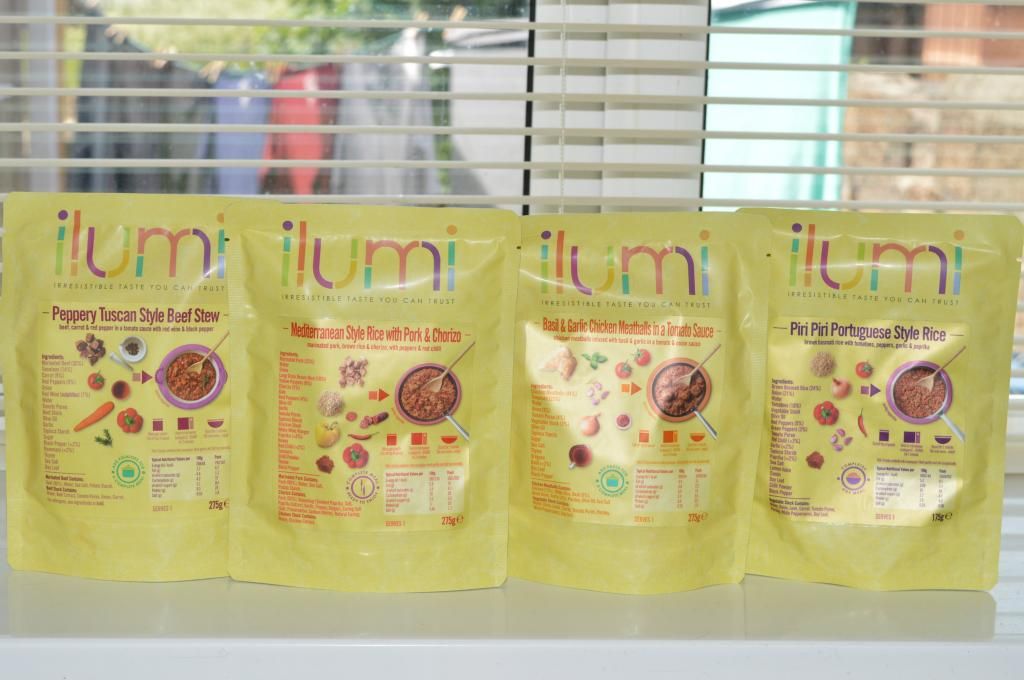 Today I introduce you to a range of ready meals from a brand called Ilumi Food. Ilumi are a brand that have been creating gluten, nut and milk free food for nearly a decade in County Durham (not too far from me actually!) The Ilumi team of chefs and nutritionists are not only creative, but also allergen savvy and know which ingredients are safe and how to combine them into delicious meals. Their mission is to create colourful, delicious and flavoursome foods that customers can trust to make them accessible and convenient and also to spread the word about eating for wellness to the wider community.
Although free from certain ingredients, Ilumi insist that it doesn't mean that they are free from taste. They are said to keep the flavour of the dishes by focusing on what delicious flavours go in rather than what is taken out. Every dish Ilumi produces is made from scratch in their own kitchens which controls the entire process to make it allergy-safe. They also cook their dishes in a special way, they use modern space saving pouches in a pressure cooker which naturally preserves all the flavours. This also means that the meals do not need to be refrigerated.
I was very kindly sent a selection of the Ilumi meals to try out from their new Mediterranean range. Each meal is apparently meant to lead to a reduction in bloating, clear complexion and increased energy. The meals are also all portion controlled for one person with full nutritional information shown so they can easily be slipped into a balanced, healthy diet. The dishes even all contain locally sourced ingredients which is a something you don't see too often when it comes to pre preprepared meals plus they take just a few minutes in the microwave to heat which is great for those who have minimal time on their hands or like me, prefer to take tasty hot food to work for their lunch break rather than having sandwiches all the time which can get a tad boring fairly quickly. Here is a little info and my thoughts on the meals that I received:
Piri Piri Portuguese Style Rice – £1.50 for 175g (side dish)
The first dish I tried was this Piri Piri rice side dish. Ilumi are said to have drew inspiration from the Piri Piri hot sauce from Portugal when creating the recipe for this dish. The dish contains brown basmati rice, garlic, sea salt, paprika and of course lemon juice. This dish is also vegan friendly and contains 252 calories. When I tried the rice I was pleasantly surprised. It was delicious. It wasn't overly hot, more mild but had a really nice circus-y tang to it. I really enjoyed the rice and would happily have it again as it hit the spot well.
Basil and Garlic Chicken Meatballs in Tomato Sauce – £3.75 for 275g
The next dish I tried was the Basil and Garlic Meatball dish. The dish contains chicken, tomatoes, onion, oregano, basil and garlic to name a few ingredients. I was expecting a lot from this as it sounded utterly scrumptious and although it was nice I feel as though it could have done with a little more seasoning to make it really wow my taste buds. The meatballs contain 259 calories and are said to go well with gluten free pasta and a side salad.
Peppery Tuscan Style Beef Stew – £3.75 for 275g
I then tried the Peppery Tuscan Style Beef Stew. Which is marinated beef in a rich tomato and red wine sauce. It also contains black pepper, rosemary, thyme and bay. As a non drinker I could really taste the wine which is something I'm not too fond of but the beef, my oh my. It was tender and everything you could want beef to be. The veg that the meal also contained was lovely too. The carrots and red peppers went down an absolute treat. The stew contains just 187 calories which I must say is pretty impressive for the amount you get and the rich taste it provides.
Mediterranean Style Rice with Pork and Chorizo – £3.75 for 275g
The last dish I tried, and my favourite from the bunch was the Mediterranean Style Rice with Pork and Chorizo. I'm a lover of chicken and chorizo rice but I've never replaced the chicken with pork so I was keen to give this a whirl. Basically it's a combo of smoky meat, onion, peppers and long grain brown rice. Much like the case with the beef in the stew, the pork was cooked to perfection. It was so tender and mega yummy. The chorizo was equally as nice and the rice was lovely. The whole combination works very well and is nice and mild. The dish contains 382 calories, the most out of all the pouches I received but in all honesty, it was totally worth it.
For ready meals, they are fabulous. I often find when I take a lasagne or chicken tikka into work I'm left feeling very let down after the high calorie, salt and artificial flavour packed meals which lets face it, don't have the best taste. If you fancy a free from, but highly tasty meal, Ilumi Foods are definitely the way to go. Of course they aren't the cheapest but sometimes it's true what they say, you get what you pay for and these certainly have the quality to match the price tag.
Have you tried Ilumi Foods?
Shannon xo
(*PR samples)