Want to see what Bomb Cosmetics goodies I recently got?
Scones and Cream Tinned Candle – £7.99 | Citrus Storm Tinned Candle – £7.99 | Very Berry Tinned Candle – £7.99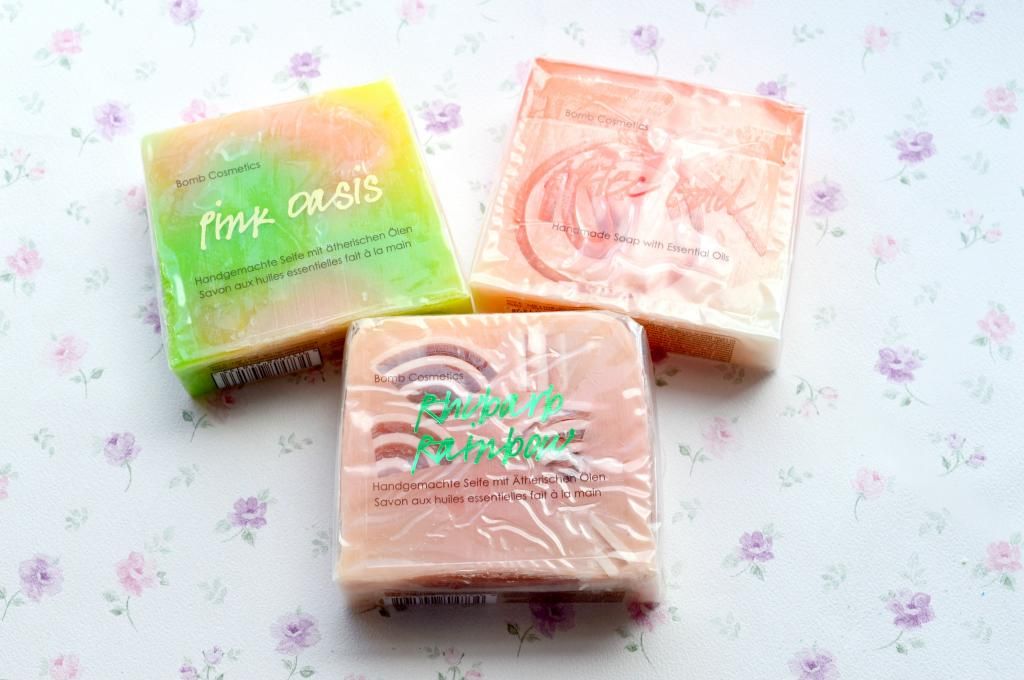 Pink Oasis Soap Slice – £2.49 | Aztec Gold Soap Slice – £2.49 | Rhubarb Rainbow Soap Slice – £2.49
Mandarin Sunset Whoopie Blaster – £2.99 | Vanilla Trifle Bath Blaster – £2.09 | Hippy Hippy Shake Blaster – £2.29 | Cherry Bathe-Well Bath Blaster – £2.09 | Queen Of The Nile Whoopie Blaster – £2.99 | Lime and Kiwi Big Top Cocoa Swirl – £2.99
Skin Therapy Shower Butter – £4.99 | Butterfly Ball Tulip – £2.99 | Blackberry Sour Scoopable Shower Gel – £7.99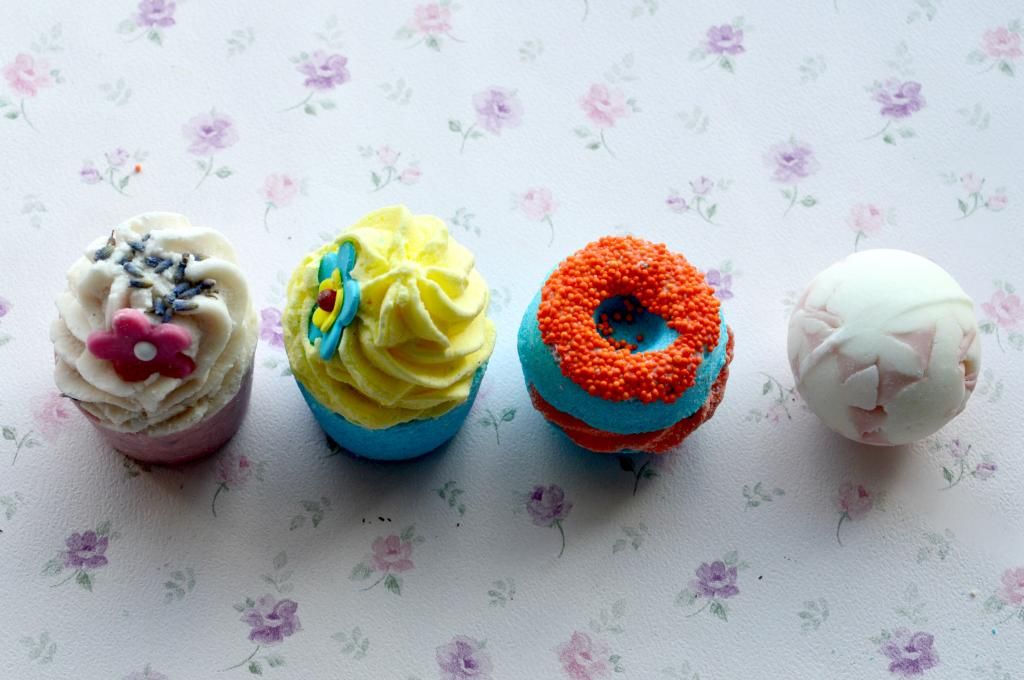 Love Buds Bath Mallow – £2.24 | Pina Paradise Bath Mallow – £2.24 | Land Of Smiles Butter Loop – £2.24 | Pink Coconut Bath Creamer – £2.09
I'm a big lover of long soaks in the bath as I find they're the perfect end to a stressful day and they're super relaxing. I'm also partial to a pretty bath bomb every now and again. Although LUSH seems to be the favourite amongst many bath enthusiasts, I don't actually purchase from them often as although they're not expensive, there are more affordable, just as good bath products out there, like Bomb Cosmetics.
Not heard of them? Well Bomb Cosmetics have actually been established for over 14 years. They don't have their own shops but their products are stocked in little independent stores (I've spotted them in a few different card and gift shops) If like me you'd rather get your products delivered to your home they also have a website which has all their products listed. Oh and they're cruelty free and believe that neither animals, humans or the environment should suffer for luxuries. They also use the best ingredients such as pure essential oils and natural butters. Another great thing about them is that their products are super affordable.
I'll admit I have recently went a little crazy when ordering from them and that the above products are from two separate orders but in my defence they had an amazing offer where you got £50 worth of products for £30. Although I'd already recently placed a big order, it was an offer too good to refuse. So I went on to place the order. I did take a bit of a risk as the offer was basically a lucky dip of products but thankfully I hit on lucky and received a lot of things I'll thoroughly enjoy so all was good. My favourite products that I received in the box are the Rhubarb Rainbow Soap Slice, a fruity, sweet blend of creamy custard, vanilla, red berries and rhubarb. The Hippy Hippy Shake Blaster, a freshly scented product fragranced with red fruits, grapes, raspberries, pears, blueberry, vanilla and caramel. And the Skin Therapy Shower Butter which contains cocoa and shea and smells just like delicious white chocolate.
From my first order my favourites would have to be the Very Berry Tinned Candle, a sweet mix of raspberries, grapes, blueberry, pears and vanilla. The Sweetie Pie Bath Blaster, an adorable looking product scented with cherries, strawberries and raspberries. And of course the Cotton Candy Bath Blaster, a bomb with sugary note of marshmallow, strawberry, caramel and sugar. Obviously I can't wait to use everything I received and it'll probably take me a little while to get through all my loot but I'm hoping to get some reviews up of each product once I've had a chance to use them. Oh I also received four car style air fresheners but as I don't drive, I gave them away to those in my family that do (They were over the moon with them!)
Because on my first order I spent over a certain amount, I also received a Daisy Dares You Gift Pack worth £12.99. Because I now have a ridiculous amount of bath products to get through I thought I'd give it away to someone who will get some good use out of it instead of having the pretty wrapped set just sat in a drawer collecting dust until all the other products had been used.
All you have to do to be in with a chance of winning, simply follow the rules:
To be in with a chance of winning the Daisy Dares You Gift Pack enter via the Rafflecopter widget below
Those using multiple accounts to enter will be completely disqualified
There will be one winner
The giveaway is open internationally

ALL

mandatory entries

MUST

be complete or you will be completely disqualified (

Mandatory entries are the three that appear on the Rafflecopter widget before you are able to unlock any other entries

)
The giveaway will run from Sunday 10th August 2014 until Wednesday 10th September 2014 12:00am BST (One month)
Once the giveaway is over I will contact the winner directly via email. Once an email is sent the winner will then have 48 hours to reply before a new winner is chosen
Good luck!
Shannon xo