After some pretty and affordable tea, coffee and sugar jars?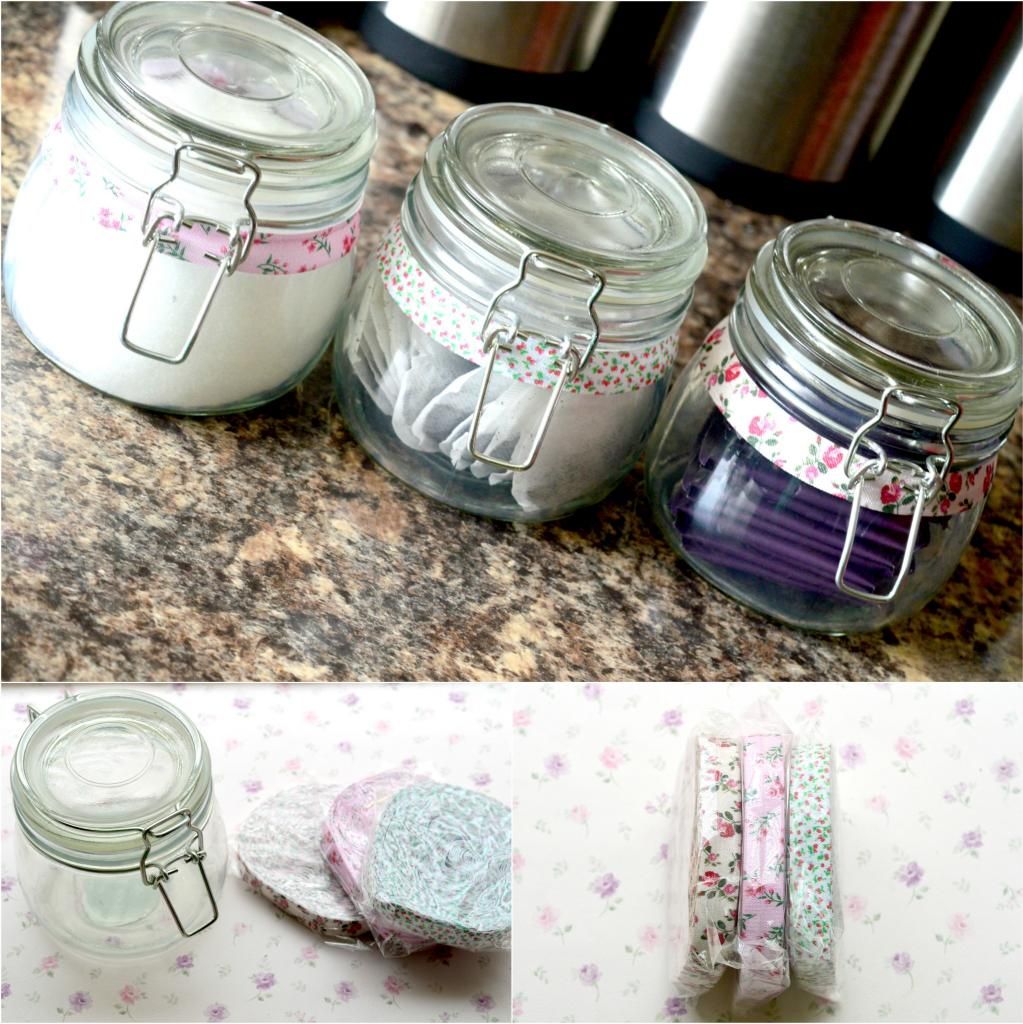 For a while now I've been on the look out for some pretty tea, coffee and sugar canisters but to be honest, nothing I'd seen had really caught my eye. I'd also noticed that canisters can be darn pricey and to be honest I didn't really want to spend a lot on a set I didn't really, really like. So, when browsing The Range website I came across these 500ml Glass Jars which were just £1.39 each. Of course there is no denying they're lovely but they're certainly a tad bland and boring (no offence to them of course)
Now I know I've titled this a "DIY" post but this is just a super duper simple way to transform some boring jars into pretty, Cath Kidston inspired canisters. Basically what I did was measure around the top of the jar (leaving some extra space to be able to tie the material) and then chopped some printed fold over elastic and tied it round. Alternatively you could glue the elastic in place but for ease I just tied it, plus I didn't want the elastic to be too permanent in case I wanted to change it up. If you're wondering where I got my elastic from, I ordered the
Pink Flower Print
,
Small Floral Print
and the
Larger Cream Floral Print
fold over elastic from AliExpress. I've had these for quite a while now and they've came in handy for things like crafting and making hair bobbles. Each roll measures a whopping 10 yards so if you are in need of some elastic, they're great value for money. I paid less than £3 per roll but I know they're currently on offer so if you're after some gorgeous floral elastic and the prints take your fancy, it is a great time to order them. Alternatively, you could use some nice ribbon that you may have lying around the house, I just used my elastic as I liked the prints and already had it.
Another thing I really like about popping the elastic/ribbon round is that you can change the print if you get bored of the look or say change your kitchen colour scheme or theme. I know I have some other adorable spotty elastic waiting to be used so who knows, I may change them up a little in the future. It is just a much cheaper alternative to £8+ jars and you have the option to customise them whenever you feel like it. Now I know these won't be to everyone's taste but if like me, you're struggling to find any canisters you like, these may be right up your street.
Are you a fan of jazzing up boring accessories and storage?
Shannon xo