Want to hear about what products I loved throughout July?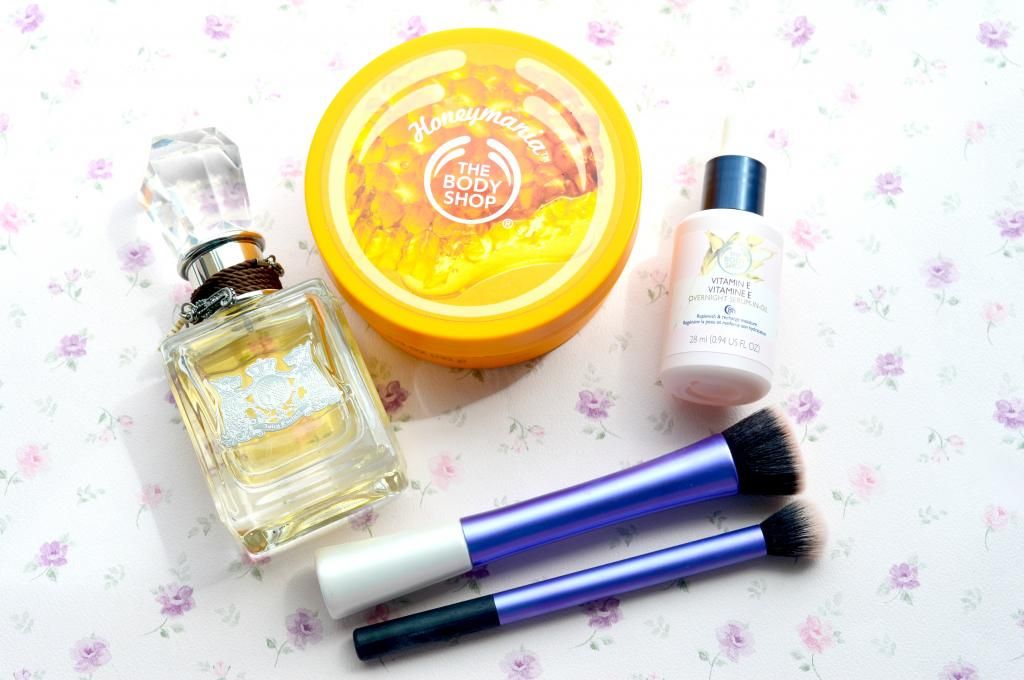 The Body Shop Honeymania Body Butter*
I'm a big lover of The Body Shop and of course all things floral so this bad boy was much loved throughout July (and still is now that August is upon us!) If you're after a butter to moisturise your skin, but don't like anything greasy or that takes a decade to absorb, this is a product worth checking out. Although it is called Honeymania, it certainly does not have a honey scent to it, it is very floral and quite strong so it does linger on the skin. Personally this is something I love about the product but for others I know this could be seen as an off putting con. It is just a really great thick butter for smothering all over the skin once I've hopped out of the bath or shower. Here, you can read my
full review of The Body Shop Honeymania Body Butter
.
Another Body Shop goody I've enjoyed has been the Vitamin E Overnight Serum. Now this is a facial oil and although I have combination skin, I do have some really quite dry patches on my forehead and on my cheeks which can be annoying to say the least. Although moisturiser seems to temporarily fix the issue and a good old hydrating facial mask also helps, I find nothing really seems to fully clear them, until now. I've been using this serum for about a month or so and I've noticed a dramatic difference. My dry patches are far less flaky and my skin overall looks brighter and better. Of course I don't find the serum works wonders for my oily areas as I find the product is a little too greasy there and tends to just sit on my skin, but I've found using this on those pin pointed troubled areas does the job nicely for me.
For perfume, I've adored the Juicy Couture Eau de Parfum. For a while now I'd loved sporting Viva La Juicy but I find this one is a lot less sweet and has a slightly more grown up and classy vibe to it. It is packed full of things like Rose, Vanilla, Lily, Wood, Patchouli and of course a whole boatload of other things. I'd say it is a very florally scent and I know a lot of people would probably class this as a "granny" fragrance but I cannot help but really, really like it, especially for wear during the daytime.
This brush has been an absolute godsend. I've used it every single day since getting it and honestly cannot believe I ever coped without it. I use this brush to pop my foundation on. Rather than stippling, I tend to blend with it using small circular motions. I find it just buffs in my foundation really, really nicely and gives me a wonderful flawless looking base. Here, you can read my
full review of my Faux Real Techniques Brush Set
.
Another brush from the set which I've found I've become very attached to is the fluffy eyeshadow blending brush. Now I will say that I find this massive for an eyeshadow brush however, I don't use it for that. Instead I team it up with powder and use it to set my under eye concealer, any blemishes and the nooks and crannies of my face that my larger face brushes aren't quite capable of reaching. By doing this I just find my makeup looks that smidgen better and longevity of my foundation is increased nicely due to even inch being set.
What products did you love in July?
Shannon xo
(*PR samples)