Want to know how I make my roasties?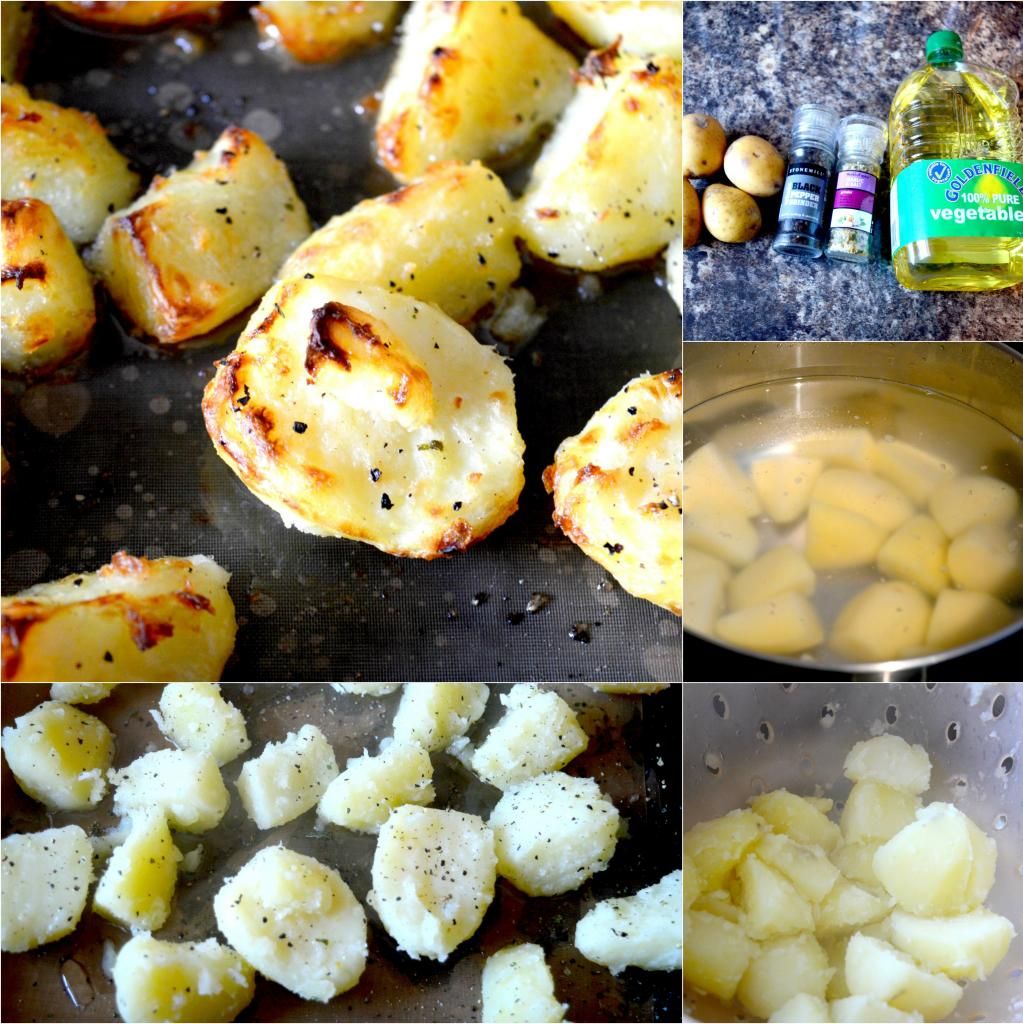 Complicated and super time consuming cooking and recipes just aren't for me. I like things that don't take a decade to make and don't include any weird methods which take lots and lots of effort. For years (well ever since I studied Food Technology/Home Economics at school) I've been in search of an easy but effective roast potato "recipe" or shall we say, cooking method. I've tried a lot of very long winded methods which quite frankly have been absolutely pants. I've also found the majority of recipes state that using goose fat gives the best taste. I'll be honest, I've not tried goose fat on anything in my life. Some might say I've not lived but in my household we weren't brought up with the stuff so you can probably understand why I've not tried it. If I'm honest I have no desire to try it either as to be honest, it doesn't sound the most appetising and kinda makes me think of lard (yuck!) So instead of using goose fat I opt for good old vegetable oil to get the job done. The below method is basically a mixture of many recipes I've tried and read over the years.
Ingredients (feeds 2 as part of meal)
Four medium Maris Piper potatoes
Two tablespoons of vegetable oil
Ground black pepper
Ground sea salt and garlic
Utensils/tools:
Potato peeler
Sharp knife
Large pan for boiling
Colander
Decent sized baking tray (preferably one lined with a none-stick sheet)
Step 1:
The first thing you need to do is is wash, peel and chop your potatoes. A couple of years back this step would have took me around half an hour to complete but after some practice I feel as though my peeling skills have improved and I can get the task done nice and quickly. When it comes to cutting your tatties, you don't want them too big or too small so chopping to a medium size is probably best.
Step 2:
You now want to stick your spuds in a pan, cover them with boiling water straight from the kettle and then get it boiling. Basically what I do is cook my potatoes until they're very, very almost done which seems to be longer than what most people do. Once done I drain them in my colander but I really like to fluff them up and give them a sort of messy look.
Step 3:
I then pop the spuds onto my baking tray, cover them in 2 tablespoons of vegetable oil and I like to season them with ground black pepper, sea salt and garlic just to give them a nice bit of flavour however, you can leave them plain if you'd prefer. I then pop in the oven 220°C (I have a fan oven) for around 10-15 minutes just until the roasties are slightly brown and crispy. Once they're done simply plate up and enjoy! I particularly like to team mine up with a Sunday Roast but they also work well with both beef and veggie lasagne as a midweek hearty meal.
How do you cook your roasties?
Shannon xo