Want to hear about five great products that I have recently discovered?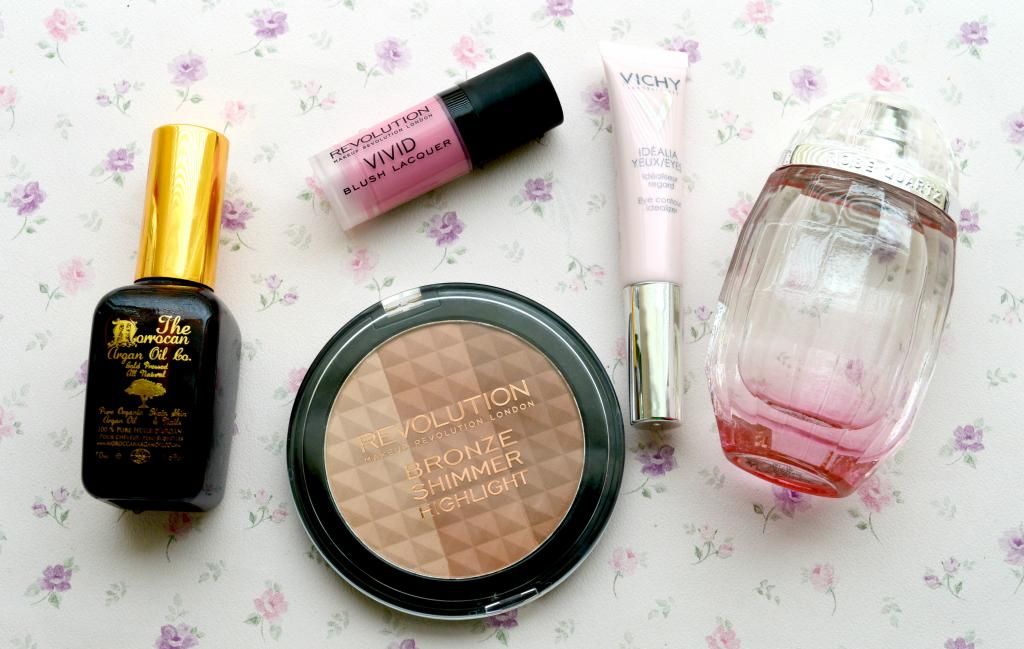 This is a cream that claims to sooth and reduce fine lines, hydrates and softens the skin and softens the overall appearance of the eye area. It comes with a very unique silicone applicator which is said to have been developed to help create a soft touch but with the precision of a brush. The product is hypoallergenic, non comedogenic, paraben free and contains Vichy Thermal Spa Water. Sound good? Well it is. I've been using this for a few weeks now and I've noticed significant improvement to my eye area. Whilst I don't suffer from fine lines or wrinkles, I am really prone to horrible, in your face dark circles due to many restless nights. Since using the cream I have noticed my eyes are much less puffy, dry and the skin is softer and smoother. Keep your eyes peeled for a full review of this cream as it is a truly great product.
Makeup Revolution Ultra Bronze Shimmer Highlight
As a pale gal I often struggle when it comes to bronzers as many are too dark and muddy for my skin tone, hence why there are a very select few products in my makeup collection that work for me. A little while back I purchased the Ultra Bronze Shimmer Highlight from one of my favourite brands, Makeup Revolution. For some reason I ended up pushing it to the back of a drawer but a few weeks back when I was reorganising my stash, I discovered it once again. It is basically a HUGE bronzing powder which is split into three shades, light, medium and dark. I personally find the lightest shade to be ideal for myself but the other two shades are great for creating a much more dramatic effect. The powders do contains a slight shimmer but they're not too disco ball like, instead they have more of a satin finish in my opinion. Wear time is not bad and at just £4.00, I think this is a steal. I will definitely be doing a full review of this in the near future so do keep your eyes peeled if you are interested.
Another product from Makeup Revolution that I have recently discovered has been the Vivid Blush Lacquer in O'Boy. In terms of the pigmentation, this blusher is mind blowing. Only a teeny, tiny bit is needed for intense colour so this is sure to last me a really long time. In terms of the wear time, it stays put for absolutely ages without budging. The only thing I will say is that you do have to work with it fairly quick when it comes to blending as once dry, it is difficult to blend further. I'm definitely going to have to invest in some more shades of these as although O'Boy is a beautiful bright eye catching pink which suits my girly personality, I really want to see what the other shades look like with my skin tone.
Ecohip 100% Pure Argan Oil*
I've been using oils for a long time now as I find them highly effective for my dry skin on my body. Recently I was sent a bottle of Ecohip 100% Pure Argan Oil which is cold pressed from Raw Organic Kernals which is apparently the best method of extraction without loosing enzymes. The oil is fair trade, hand picked and collected by local berber women of the Atlas Region. The oil is said to help dry and frizzy hair, moisturise, smooth and soften the skin, keep hands looking young and even stimulate hair growth. I have to be honest here and admit that so far I have only tested it out on my feet and cuticles but it has really made a difference. For my feet I simply pop a few drops of the oil on, massage it in and then cover my feet with socks, just like Ecohip recommend. I really like to do this after a long day of shopping when my feet are feeling in need of some TLC. In the morning, after I've caught up on some beauty sleep, I wake to find my tootsies are nice and moisturised, smooth and soft. For my cuticles, I simply pop a little oil on either after I've given myself a manicure or when I hop out of the bath. I just find the oil helps to stop them from becoming dry and makes them look a little better. I will be doing a full in depth review of this oil once I have tried it out a little more so if you do want to learn more about it, fear not because a post is most certainly on it's way.
Alesha Dixon Rose Quartz Fragrance*
It isn't often that I get excited by a celebrity fragrance but when this landed through my post box I was very excited. Unlike a lot of celeb scents (no offense to any famous people out there) I find the bottle to be surprisingly classy looking rather than your typical tacky packaging. If it didn't have Alesha Dixon's name on it I would have actually thought it was produced my a big name perfume house. Anyway, enough about the look, the scent is floral and fruity number with notes of Begamot, Rose, Magnolia, Grapefruit, Musk, Amber and Cedar. It is very fresh and Summer like but not overly strong or pungent so it could also be fabulous for Spring too. Because it is a light fragrance it doesn't have amazing wear time however, it is a perfect daytime fragrance where you want to smell nice but prefer a subtle smell.
What products have you recently discovered?
Shannon xo
(*PR samples)