Want to hear my thoughts on the No7 Instant Radiance Bronzing Highlighter?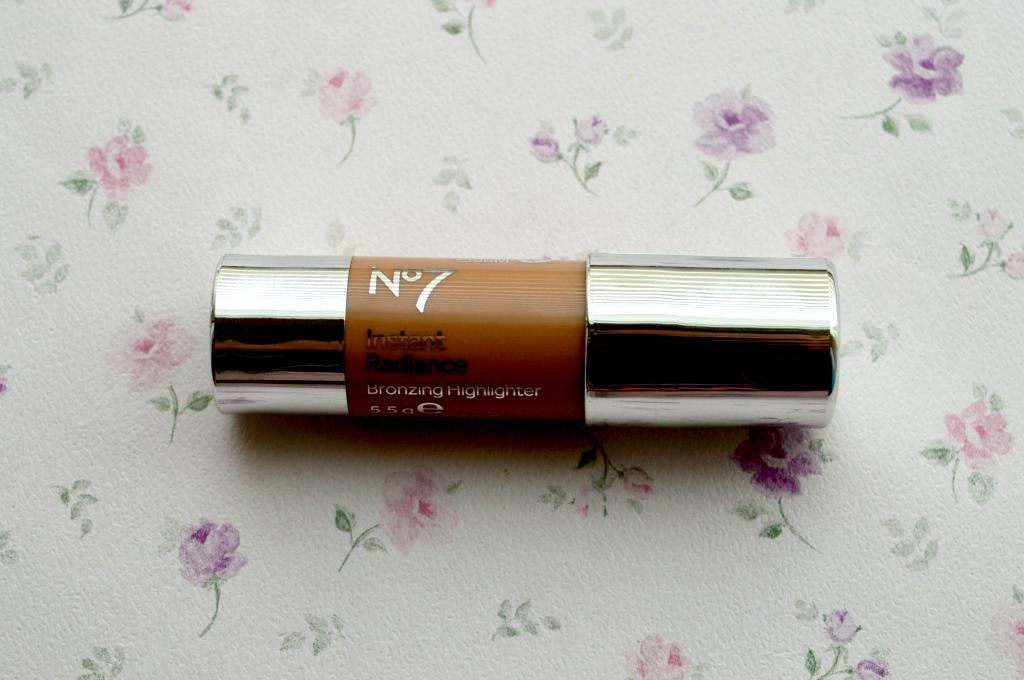 Because I am so pale I tend to have quite the struggle when it comes to finding bronzers to work with my pale, cool complexion. However, not long back I was sent the No7 Instant Radiance Bronzing Highlighter which retails at £9.95 and is available to purchase both on the Boots website and in store. I was really excited when I first got this but also little hesitant but nevertheless, I gave it a try.
The idea is that you sweep this on the cheeks, brows bones and the bridge of the nose to reveal a subtle shimmery bronzed finish which is said to be great for the Summer evenings. Now I did as instructed and was a little taken aback by just how pigmented the stick was so I really would recommend being light handed or opting to use a brush rather than applying directly to avoid going over the top. I love how quick and easy this product is to use and that you see results straight away. The cream consistency also makes it a joy to work with as it blends out really well. The actual shade is a bronze toned brown that is shimmery but not glittery. It is no surprise that this didn't look amazing on me as I find pink tones work miles better but when blended out and when applied quite sheer, it didn't look too bad but highlighted my areas nicely as well as giving them a slight sun kissed look. The one thing I will say is that in my opinion this is much more of a evening product than for everyday daytime wear as it can look fairly dramatic. As for the packaging, the bronzer/highlighter comes in plastic casing form which is compact, sturdy and fits into my small makeup bag nicely. It also comes with a twist up bottom so there is no need to spend countless time messing around with mucky sharpeners. In terms of lasting power I found the cream textured product lasted around 5 hours which wasn't too bad but I found by applying a layer of powder bronzer over the top helped to increase longevity but obviously this did slightly change the look of the product finish.
Overall I'd say I was pretty pleased with the way the product performed as well as it's packaging. Although the shade works reasonably well, I think a pinker/champagne colour would work just that extra bit better for me so I think I shall be investing in the
Instant Radiance Boost Highlighter
in the near future to see if that product is a bit more suitable for me. If you are someone with warm toned skin, I think this could potentially work really, really well on you but if you are quite cool toned like myself, I'd suggest popping in store to give it a test just to be on the safe side to avoid buying something that doesn't quite work for you and wasting your hard earned cash by doing so.
What is your favourite No7 product?
Shannon xo
(*PR sample)