Want to hear my thoughts on the Yankee Candle Berrylicious Votive Sampler?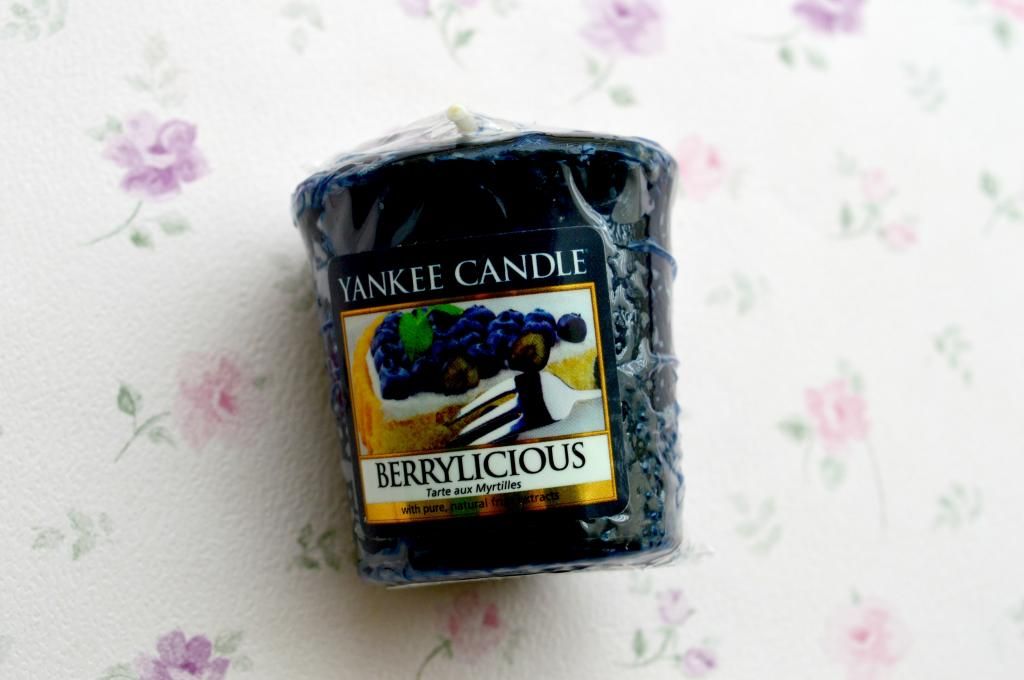 Recently I've become obsessed with Yankee Candle. I think practically everyday I've burnt either a Votive Sampler or a Wax Tart. My favourites are definitely the Wax Tarts as I find they give off a stronger scent. After
my recent and quite large order
I'd been looking forward to trying Berrylicious but sadly I have not been left impressed.
The
Yankee Candle Berrylicious Votive Sampler
retails at just £1.75 and is available to purchase on the Yankee Direct website. Now Berrylicious is said to be a combination of blueberries and vanilla icing and when I sniffed the unlit candle, I'd have to agree. I'm going to be really honest here though, I was really, really disappointed in this candle. In terms of the scent, it literally had no throw and to smell the Votive I had to be about an inch away which is neither practical nor safe. Even when I was sat at my desk I couldn't detect the smell when it was a mere arms length away from me which I found was a huge let down as I was really, really looking forward to trying out the scent. Now I know, I know, the scent samplers give is nothing compared to the larger jars or wax tarts, they often give a much more subtle fragrance but this one was shockingly poor.
In terms of the burn time I started burning this at 11am and by 9pm it was practically all gone. That is ten hours of burn time, not bad for a candle that cost less than two pounds but it is five hours less than Yankee Candle claim the sampler is capable of. Overall, I was highly let down by this votive. I've had a bit of a read and researched online and I've found Yankee Candle unfortunately have been known to produce dud candles and I think I sadly may have received one. Either that or the sampler is truly poor. At just £1.75 I can't really complain too much as it was not bank breaking but I think in future I will be repurchasing this in wax tart form as so far I've not had any issues with them plus they're more affordable in comparison.
I think if you're after a candle to look pretty whilst burning, this is a good one to get but if you're after a deliciously, pleasantly scented votive, I would not recommend purchasing this sampler as I fear that if the one I received was not a dud, you too may be left feeling disappointed just like myself. Sorry Yankee Candle.
Are you a votive sampler or a wax tart kind of person?
Shannon xo