Want to hear my thoughts on the Bomb Cosmetics Blackberry Sour Scoopable Shower Gel?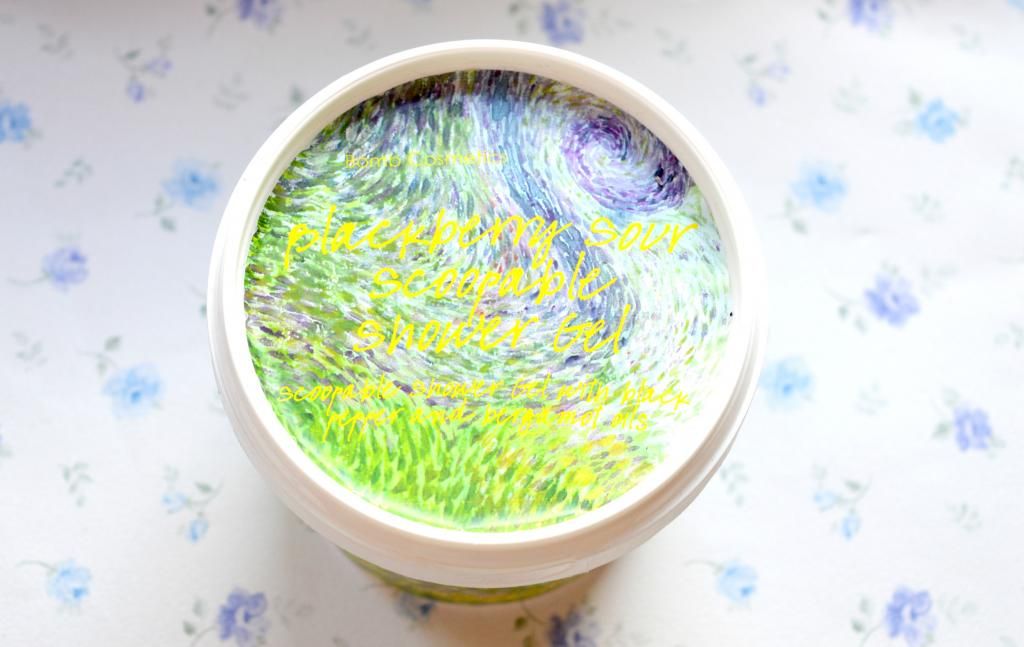 Many apologies for the out of focus picture, this was the best I could get!
This is another product I received in my huge lucky gift pack which you can see in this
Bomb Cosmetics haul
. Now sadly a lot of the goodies I received have now been discontinued which I think is a real shame as a lot of the things I got I really, really liked (Ahem,
Queen Of The Nile Whoopie Blaster
) but I guess they had to make room for their Christmas products (Which look amazing may I add! I've ordered a boat load to try out so keep your eyes peeled if you are interested!) Anyway, the Bomb Cosmetics Blackberry Sour Scoopable Shower Gel is sadly no longer available BUT the Raspberry Rainbow scent is still available. Are they the same quality? Does the Raspberry version work just as well? I honestly couldn't tell you as I've not tried it so if you do purchase it and it is not the same at all, please do not hold me responsible.
The Blackberry Sour Scoopable Shower Gel is certainly not what I expected at all. I was expecting your typical gel consistency wash but this stuff is so much better. The only way I can describe it is that it is a cross between a jelly and a gel. It is kind of like a LUSH shower jelly but it is definitely much, much, much more liquid like and does not hold its shape nearly as well which is something I did not mind at all. In terms of its ability to wash the skin, it cleanses the skin well without drying it out in the slightest. There isn't much of a lather but it does its job effectively. When it comes to the scent, oh my. I feel like I say this with all Bomb Cosmetics products but it is true, everything smells so good, it is one of the many reasons why I love the company so much. Of course if you're not a fan of berry like scents, I think this is one to steer clear of but if you're a fruity scent lover like myself and you're partial to a berry fragrance product every now and again, I'd say go for it, providing that you are able to track a tub down as I suspect it may prove a wee bit difficult. What was my skin like after use in the shower/bath? Well apart from nice and clean it felt pretty much the same. I can't say I noticed any increase or even decrease in moisture or softness which I guess is better than it having an adverse effect.
Overall I'd say this is a pretty good shower gel. It smells lovely, it cleans the skin well and it has a slight fun element to it. Of course because it is now discontinued you can no longer purchase it but when it was available I believe it retailed at £7.99 for a 365ml tub which isn't cheap but it isn't too bad for a nice treat.
Have you tried any of the Scoopable Shower Gels?
Shannon xo