Want to hear all about a purse friendly stocking filler gift idea from AliExpress?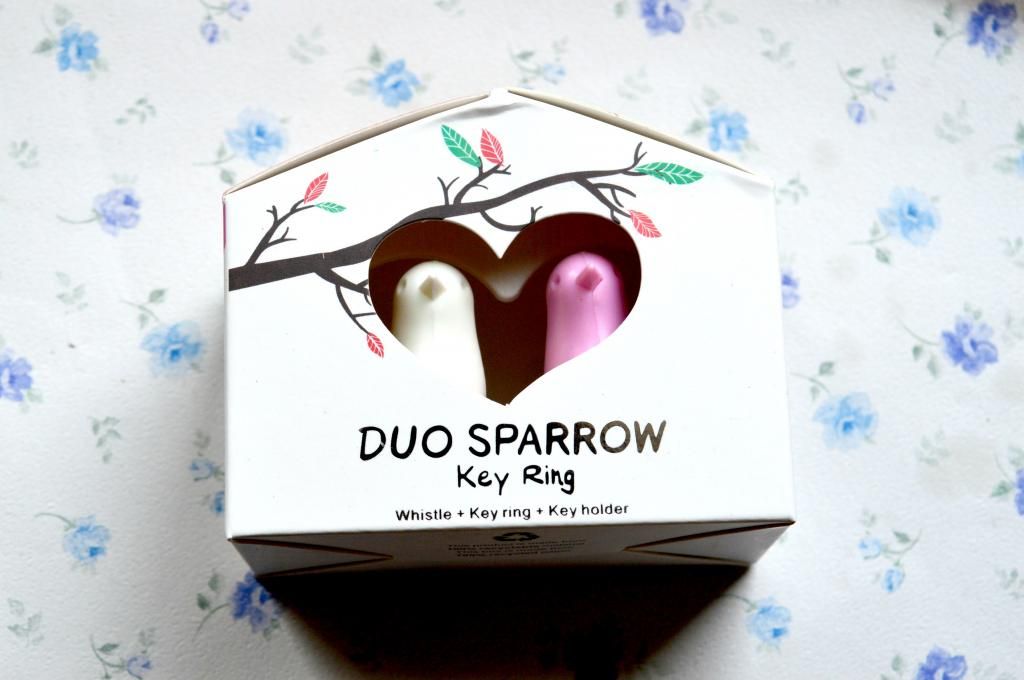 Not long back I was browsing AliExpress and came across this lovely
Duo Sparrow Key Ring
. Now you may be thinking "what on Earth is that!?" Well the item contains two key rings, both bird shaped as well as an adorable little bird box. The idea is that you put the keyring on your keys (and someone else can put the other on on theirs) and then when you are in the house, you rest the bird key ring in the bird house so you always know where your keys are, which is ideal for anyone who is always misplacing their set. The bird also doubles up weirdly as a whistle. This isn't a function I can see myself using however, I guess it is kind of cool and if you are ever in a situation where you say, may need a whistle, you'll always have one on hand, just in case. I just think this is a great little stocking filler for any couples you may know or it could even make a nice little house warming present. I chose the colour combination White and Pink but it also comes in Orange and White, Green and White, Red and White and Pink and Green so if the one I chose isn't really your style or doesn't go with the colour scheme of your home or the recipients, there are other options.
In terms of the quality I was actually surprised that it came in such good retail packaging as a lot of AliExpress items tend to just come thrown in a jiffy bag, but protected with bubble wrap may I add. The actual item quality is pretty decent too. Everything is made of hard plastic which is sturdy and quite strong. The bird house part also contains two spaces for nail hangings but if you aren't the DIY type (I'm certainly not) the house also contains three adhesive stickers which make wall hanging a much easier and simple task. The item retails at just £3.93 which is certainly purse friendly but as with all AliExpress items, the price does tend to fluctuate so do keep your eyes peeled as your may just bag yourself an even better bargain. For delivery, I ordered my item on Saturday 11th October and it arrived on Thursday 27th October so it arrived pretty quickly considering it came all the way from China. It came by Royal Mail and thankfully didn't get stopped at customs so it was not delayed which I was really thankful about. Overall, for the price I am pretty chuffed with my purchase and would recommend the seller I used to anyone wanting to also buy this item.
Are you a fan of this product?

Shannon xo