Want to hear about the Henryka Silver Heart Link Charm Bracelet?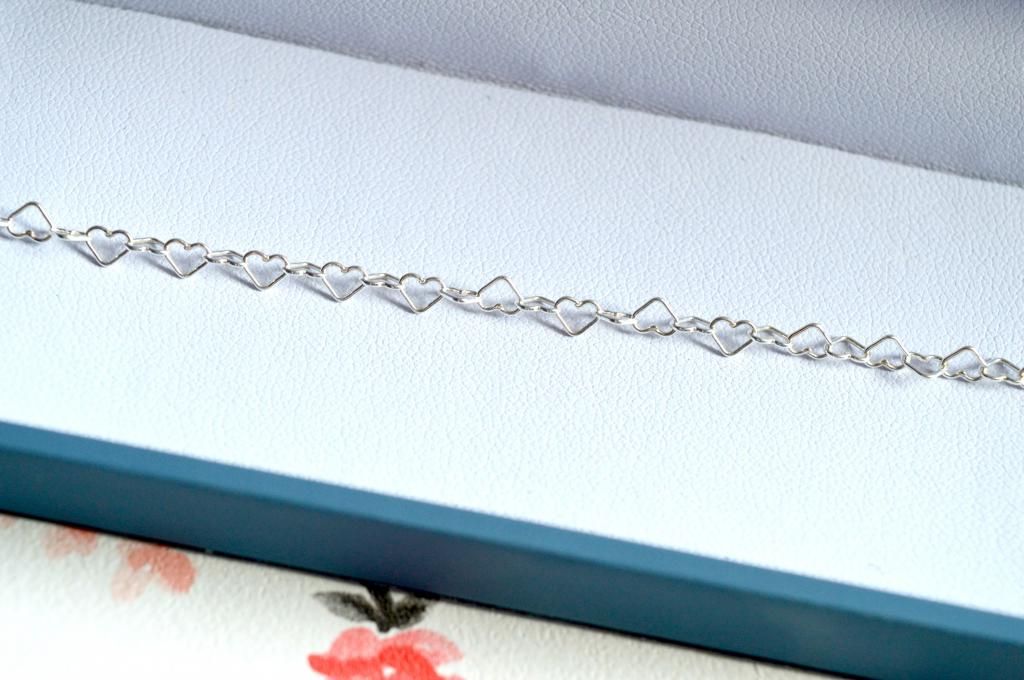 Henyrka
is a brand that specialises in Amber and Silver jewellery. It is one of the UK's leading specialists when it comes to designing and handcrafting unique Silver and Amber pieces. They pride their selves on having the best quality materials and they offer what is said to be one of the most diverse and unique collections of Amber in the United Kingdom. The company is also well established and has a keen eye for delivering unusual designs of exceptional quality. They are also a member of the International Amber Association and they offer genuine hallmarked jewellery. They're also a company who are passionate about their products which they convey through their approach to retail the customers retail experience and also in their customer service.
I was very kindly recently sent the Silver Heart Link Charm Bracelet from Henryka. The bracelet is a Silver number that consists of lovely little hearts all linked together. It is very dainty and delicate, the kind of piece that I find elegant and classy. Because the bracelet is a charm bracelet, you obviously can put charms on it. Henryka also have a decent size selection of charms on their site. Some of my favourites are the Silver Butterfly Charm (£25.00) the Cognac Amber Owl Charm (£16.00) and the Amber and Amethyst Leaf Pendant with Silver Chain Charm (£45.00) However, in my opinion the bracelet looks pretty as it is but if you have a jewellery lover to buy for, this could make an ideal present as they could collect charms for it, building up their collection or you could even purchase other charms for the recipient for other occasions such as Birthdays and Christmas to help them add to their piece.
For the price the bracelet retails at £17.00 which I think is pretty affordable when it comes to jewellery. It is also currently available in two lengths, 5.5 inches and 6.5 inches. Now I believe the standard bracelet size is around 7 or 8 inches so this piece is a bit smaller than average and probably more suited to those with smaller wrists rather than those with larger wrists so do keep this in mind if you are thinking about ordering. For the closure, the bracelet sports a classic lobster clasp which is effective, works well and I have so far not experienced any issues with it. It is also worth mentioning that when the bracelet arrived it came beautifully presented in the long blue box which you can see above. I'm assuming this is how the piece comes presented when ordered as I cannot find any boxes to purchase on the website. I think this is a really nice touch as it means the bracelet is kept safe but it is also well put together, perfect for if you do plan on giving the piece as a gift. I know a lot of the time when you order jewellery online they simply pop the item in a small plastic bag and then in the post which certainly is not ideal for when it comes to present giving so I really liked how Henryka packaged the item.
Are you a jewellery fan?