Want to hear my thoughts on the November 2014 Birchbox and see what I received?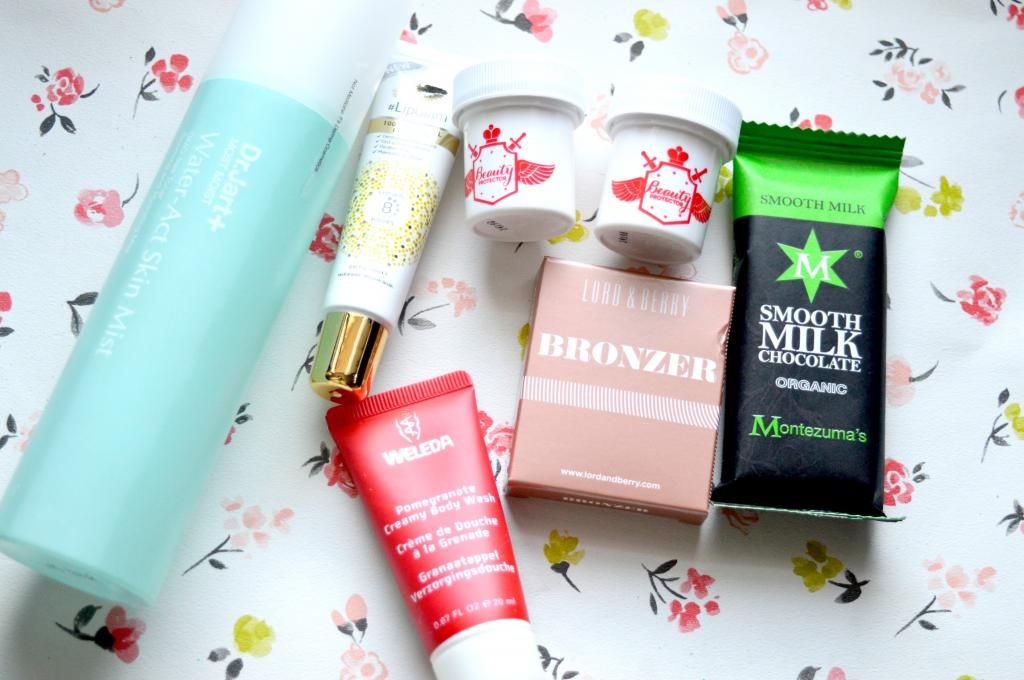 This months Birchbox is Cosy At Home box. As usual it retails at £10 plus £2.95 postage and packaging and it is available to order on the Birchbox website.
Weleda Pomegranate Creamy Body Wash – Full size RRP £8.95
I go through body wash like there is no tomorrow so there is no doubt that this will easily get used up. This is said to be a nutrient loaded moisturising in shower wash that is infused with sandalwood, davana and neroli. Does it excite me? I'm not overly crazy about it however, I am yet to try it so who knows, it may blow me away.
Beauty Protector Protect and Treat Hair Mask – Full size RRP £16.00
I actually received two little pots of this hair mask which is just as well as my hair is super, duper long and very, very thick so there is no way that one pot would get me through one application. This is a mask that is said to rejuvenate and protect your hair. The mask is also said to be packed with argan oil, honey, amber and even crushed pearls! The way you use it is by applying to the ends of your hair after shampooing. You're then supposed to leave it for 5-10 minutes if you have normal to oily hair and 20 minutes if you have dry hair then you simply rinse it off. Sounds good doesn't it? I'll be giving this a go at the weekend when I have myself a nice long pamper evening.
LipGlam Natural Lanolin Lip Balm – Full size RRP £9.99
The third thing I found in my box was this balm from a company called LipGlam. I've not heard of them before but the product sounds interesting. This is said to be fast acting and it is said to deliver moisture up to 8 hours using 100% natural ingredients. Now this is basically just Lanolin from what I'm aware of. If you aren't aware, Lanolin is an oily substance that is secreted from wooly animals (it is basically sheep sweat) It sounds absolutely vile but it is one of the best moisturising ingredients out there. I've actually used pure Lanolin before and it absolutely reeks but it is very effective. These days I tend to buy products containing Lanolin as they tend to be a bit more pleasantly scented so I really gave this a good sniff. As I suspected, it wasn't horrid in the slightest, in fact it hardly has any scent at all which to be honest, is fine by me. One thing I will say is that I kind of wish this was in pot form rather than a squeeze tube as I spent a good ten minutes trying to release it on the first use but now that I've squeezed it a couple of times I do think it is starting to loosen up and become easier to dispense. Oh did I mention that this doesn't just have to just be used on the lips? That's right it can be used as a cuticle treatment, split end smoother, lipstick and mascara primer, eyebrow balm, dry skin reliever on the knees, elbows, knuckles and nasal passage and can even be used to soothe chaffing and rashes. Basically it sounds great and I cannot wait to put each claim to the test.
Lord and Berry Mini Bronzer in the shade Sienna – Full size RRP £19.00
In my opinion, makeup is always a great thing to receive in beauty boxes so I was pleased to see this cute little bronzer from Lord and Berry, a brand I've heard a lot about but never tried. The bronzer is in the shade Sienna which is matte brown with a lovely silky finish. Personally I don't think it is the right tone for my skin to use as a bronzer, however, I am definitely going to use it as an eyeshadow as it looks like a perfect everyday shade to team up with a nice chocolate brown.
Dr Jart + Most Moist Water Act Skin Mist – Full size RRP £18.00
A huge full size product! I repeat, a huge full size product! I literally did a little dance when I found this in my box. It is a toner that claims to boost the skin's internal moisture levels with an antioxidant infused refreshing formula. To use it you simply spritz your face from around 20-30cm distance away but do be sure to close your eyes. I've been trying this out since I received my box and although it is early days, I am enjoying it as I find it is refreshing my skin nicely. I also like that it is a gentle spray and doesn't soak your face. I will definitely, definitely be doing a review of this after I've had a chance to try it out a little more.
Montezuma's Mini Chocolate Bar – Full size RRP £2.39
For my lifestyle extra I got a mini bar of chocolate from Montezuma's. This is said to be an indulgent treat which is creamy and made from the finest organic cocoa beans for a sophisticated flavour. I'm definitely going to have this on my pamper evening with a nice hot cup of tea.
Are you a Birchbox subscriber?
Shannon xo
(*PR sample)