Want to hear my thoughts on my Bronze Elephant Necklace or fancy winning yourself one?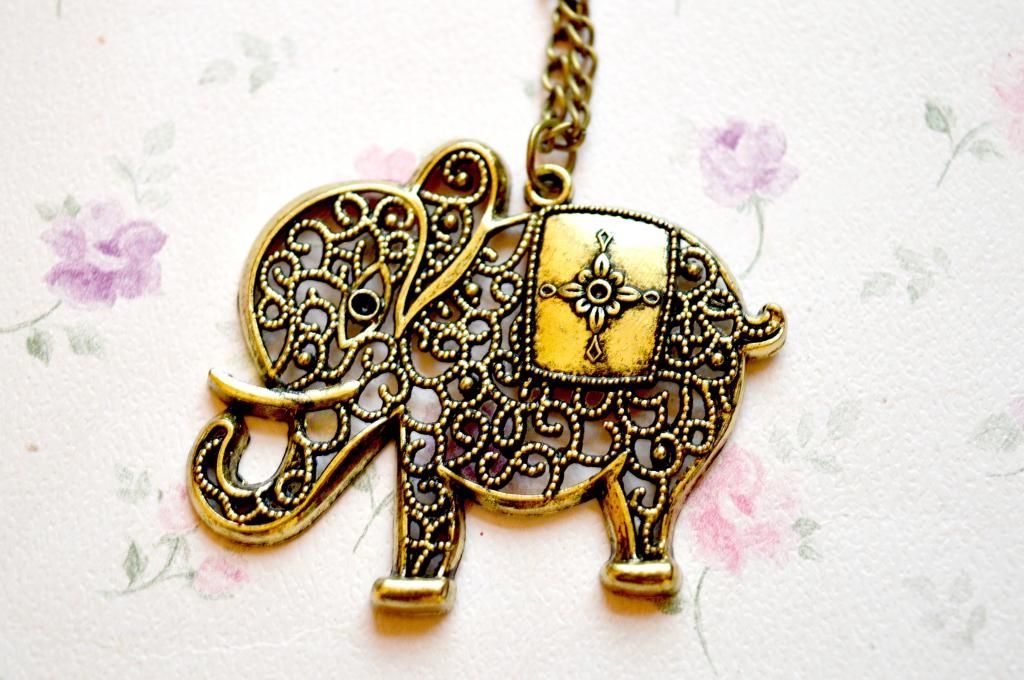 If you read my blog often you'll know I am AliExpress bonkers. One of the latest items I purchased was this fellow, a
Bronze Elephant Necklace
. The piece set me back just 62p, yeah that is right, 62p! Having said that the seller I did purchase this from required you to spend a minimum of $10 (Around £6) But luckily I spotted some other pieces I wanted so all was good. Seriously though, if you're a fan of cheap fashion jewellery, check out what the online marketplace has to offer.
Anyway the necklace consists of an Elephant pendant which is around 5cm by 5cm so it isn't small, but it isn't huge. For the design it comes with quite a bit of detail upon it which consists of many swirls which I find really pretty. The actual colour is a bronze shade with a slightly worn effect that gives it a sort of vintage vibe. For the chain, it is roughly about 80cm long which makes it sit around the bust area. It comes finished with a lobster clasp which I find a little stiff but it is no big deal for me as I just slip the piece over my head without undoing it. For the material it is made of, it is alloy. I find although the piece is quite sturdy, the middle part of the necklace can dint a little if you're not careful but for the price it is pretty good. So, do you fancy being in with a chance to win yourself your very own Bronze Elephant Necklace? Well you're in luck as I have one to giveaway! To be in with a chance simply follow the rules below.
Rules:
To be in with a chance of winning a Bronze Elephant Necklace, enter via the Rafflecopter widget below
Those using multiple accounts to enter will be completely disqualified
There will be one winner
The giveaway is open worldwide.

ALL

mandatory entries

MUST

be complete or you will be completely disqualified (Mandatory entries are the four that appear on the Rafflecopter widget before you are able to unlock any other entries.)
The giveaway will run from Saturday 29th November until Monday 29th December 2014 12:00am GMT (One month)
Once the giveaway is over I will contact the winner directly via email. Once an email is sent the winner will then have 48 hours to reply before a new winner is chosen.
Good luck!
Shannon xo