Want to hear my thoughts on the Neal and Wolf Aura Hair and Body Fragrance?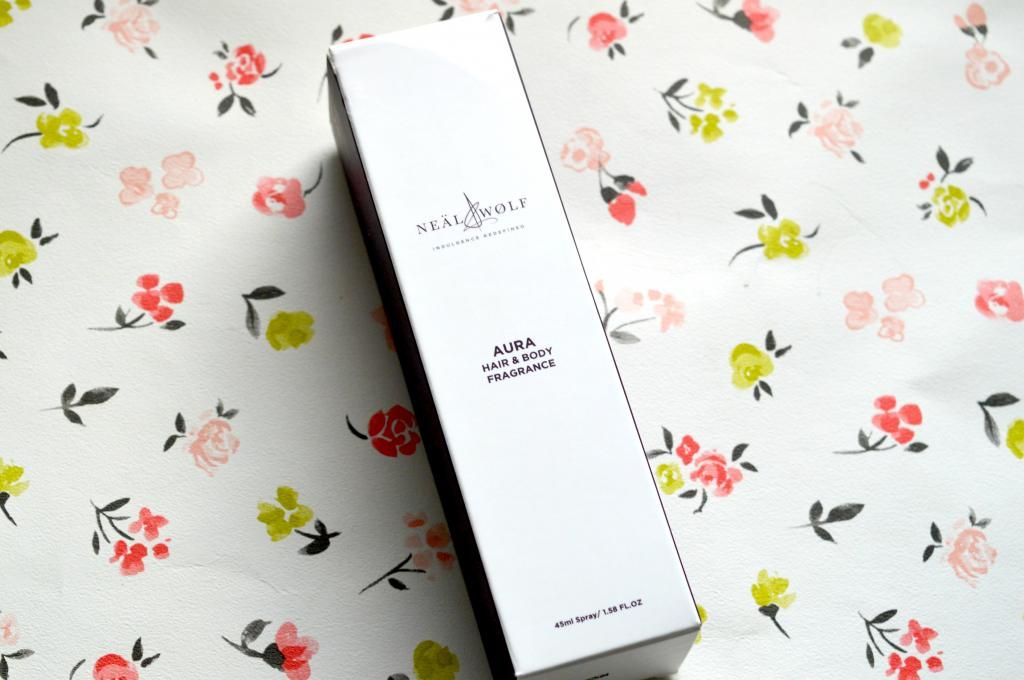 I don't believe I've ever used a hair and body fragrance before but I was super excited when Neal and Wolf got in touch and asked if I'd like to try it out, I was very, very excited. So first of all the Neal and Wolf Aura Hair and Body Fragrance retails at £20.95 for 45ml and is available to purchase on the Neal and Wolf website. It is fragranced with Neal and Wolf's signature fragrance which is a lovely blend of delicate blossom, the essences of white thyme and saffron combined with floral aromas of lily, ylang ylang, orchid and vanilla. It is a lovely scent that is delicate but detectable and floral without being granny like. The fragrance is free from parabens, DEA, TEA and Sulfate. It is also cruelty free.
On the skin I find it works really well on me and has become a spray I've been reaching for rather frequently. The only thing that I was a little disappointed with was the lasting power as it seemed to disappear after around four or five hours but then again, when you consider the pricetag, I'd class it as a budget/purse friendly fragrance and from experience I personally find a lot of sprays in that category tend to fall short when it comes to longevity. Having said that, I did find that the scent lasted much longer on my hair. I'm not sure why that was the case but it just seemed to cling better which I really liked. In terms of the effect on my hair, I can safely say that it did not change the texture or condition at all which I was really happy with as that was something that did worry me a little before I first tried it out.
For the packaging, the spray comes in a simple, long glass bottle complete with a spray top. So far I've had zero issues with the packaging and I'm finding it keeps the product nice and safe. Overall, I really like the product. It smells gorgeous and lasts well on my hair. It is worth the pricetag? I'd definitely say yes, I actually think it is really good value for money.
Have you tried this product? Are you a fan of hair scents?
Shannon xo
(*PR sample)