Want to see what goodies I received in my November 2014 Degustabox?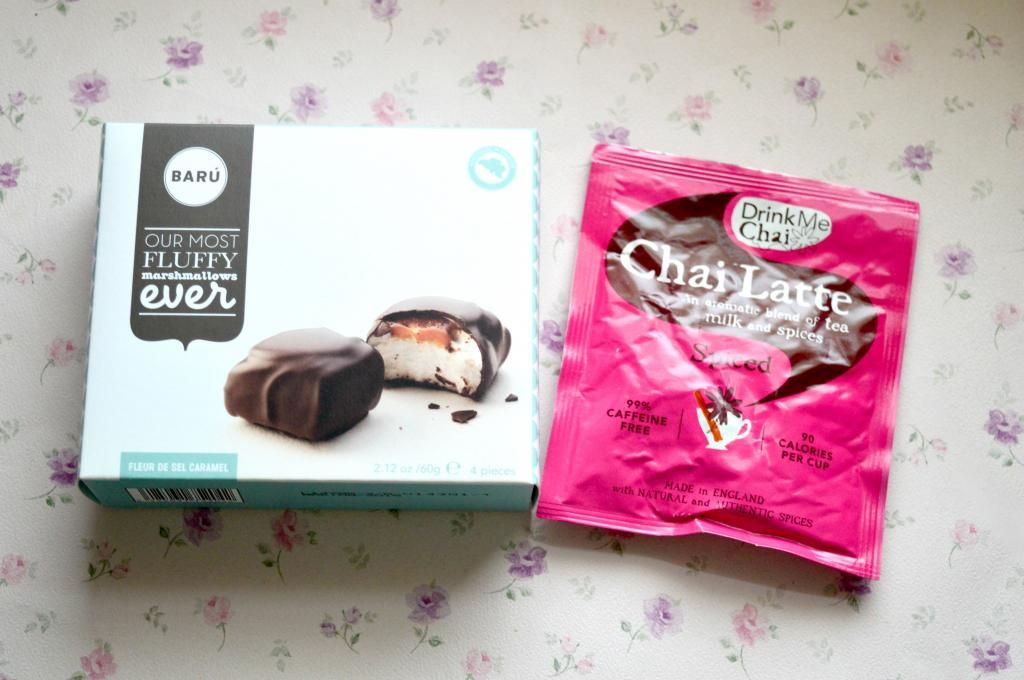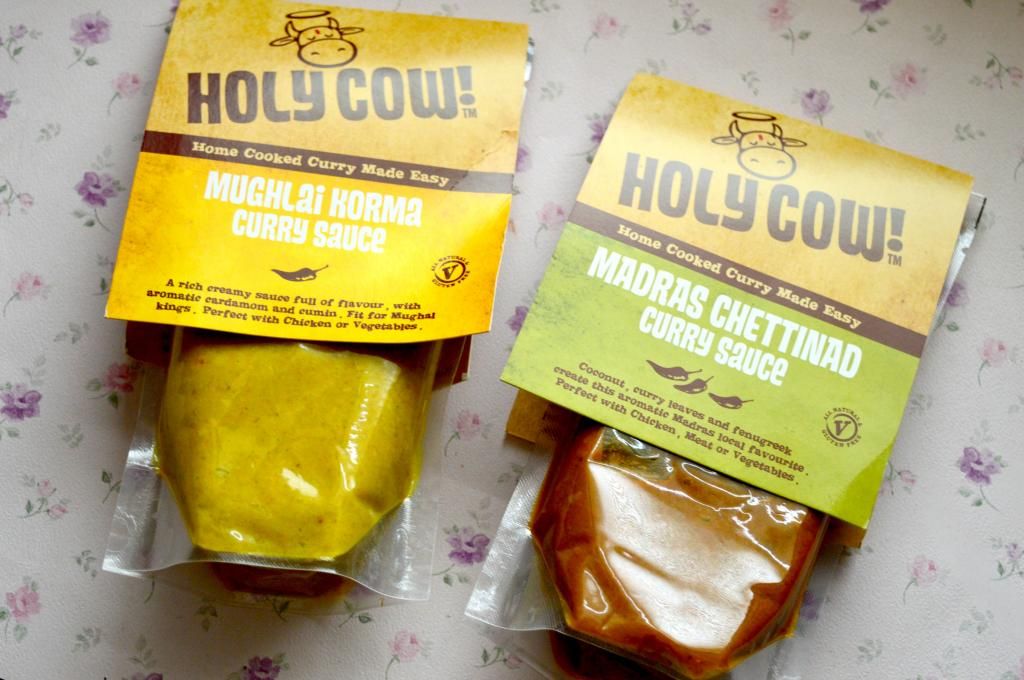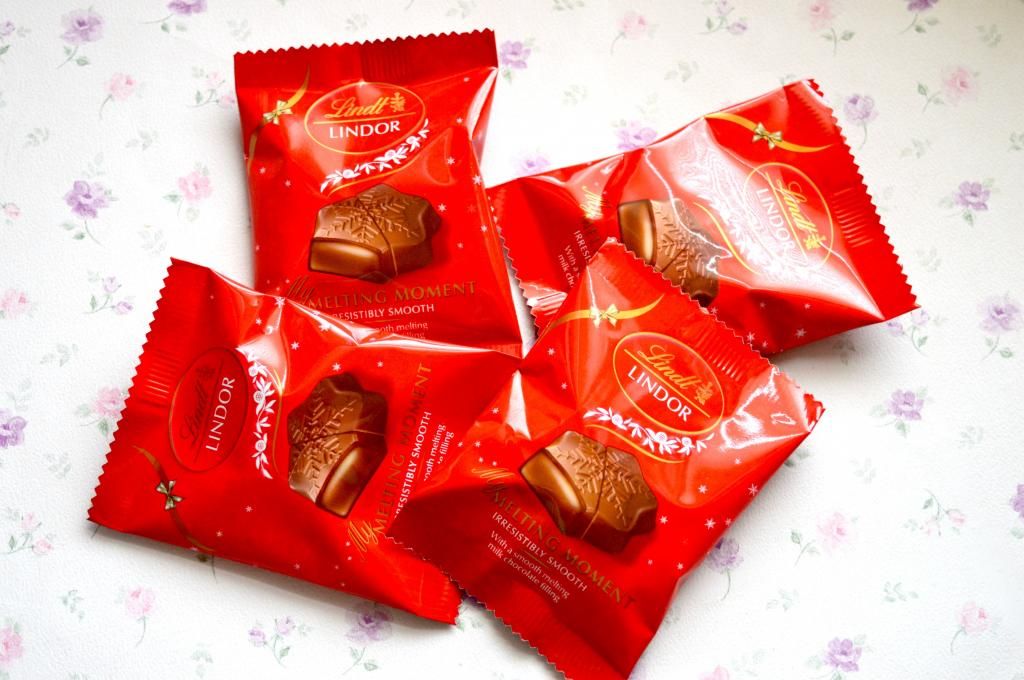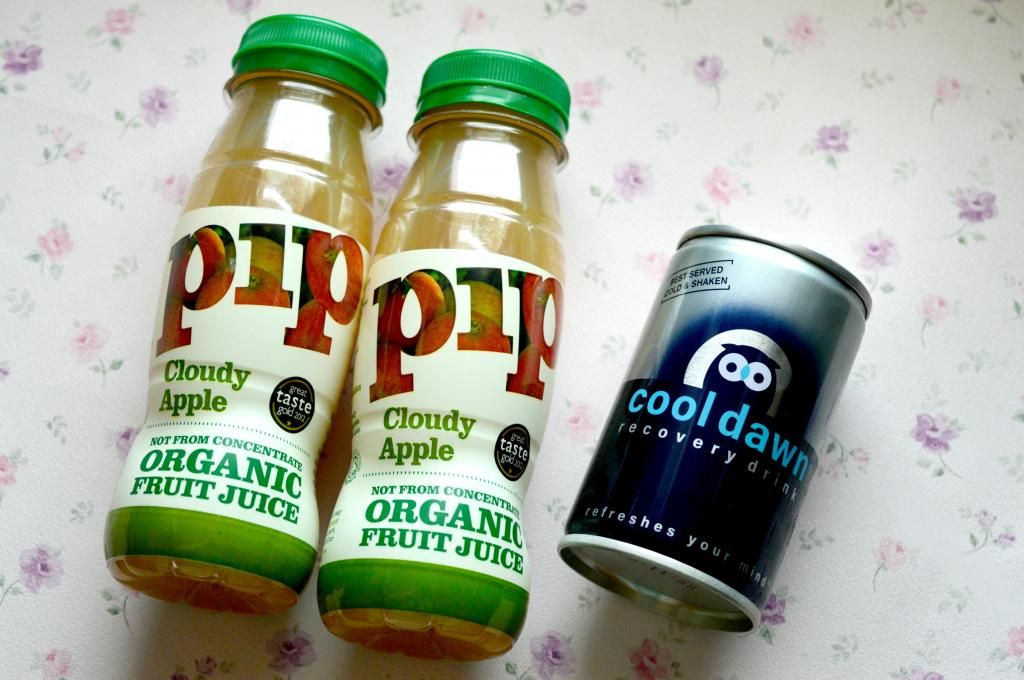 Baru Marshmallows
The first item I spotted in my box was a little gift from Degustabox. Now not everyone will have received this in their box as it was only included in boxes to people who have been subscribed since Degustabox launched and also us bloggers received them too. They're basically little chocolate coated marshmallows. I have now shamelessly devoured every single one and I've got to say, they were lovely. I found they went down really well with a freshly brewed cup of tea and I found the marshmallow to be really good quality.
Drink Me Chai Chai Latte
The next thing I found in my box was a sample sachet of the Drink Me Chai Latte. I've got to confess that I'm not really a lover of chai lattes but I gave this a try. It isn't something I would opt for drinking regularly but it was a nice change to my regular hot beverages.
Holy Cow Mughlai Korma Curry Sauce and Holy Cow Madras Chettinad Curry Sauce
I am a massive curry lover so you can imagine how excited I was when I found not one but two sachets of curry in my box. I got Mughlai Korma and Madras Chettinad. I think me and Marc shall be using these for a nice little curry night in. I've not heard of Holy Cow before but from looking at all of the great reviews online I am looking forward to giving them a go.
Lindt Lindor My Melting Moment
Receiving chocolate is never a bad thing in my opinion, especially Lindt chocolate. I received five of the Melting Moment chocolates and I've got to say, they were scrumptious! I thoroughly enjoyed each and every one and will definitely be purchasing more for Christmas Eve when all the family get together. The chocolates are basically snowflake shaped and have a smooth melting filling. Take my word for it, they're extremely nice.
Branston Mediterranean Chutney
I've always been a fan of Branston pickle (spread on a bit of bread with a slice of cheese is unreal!) but one product from the brand I have not tried has been the Mediterranean Chutney. As soon as I tasted this I fell in foody love. I love the sweetness and the whole combination of flavours. My favourite way to devour it is with some crackers and cheese. It is so simple but mouthwateringly nice.
Kent's Kitchen Stir In Flavour Shots – Fajita Flavour
I love me some fajitas so this will certainly be getting used. What is it you ask? Well it is a four pack of flavour shots. The idea is that for every 400g of meat (300g if you want intense flavour) you use just one of these little pots to season your fajita mix. Essentially they are just a mix of spices such as garlic, chilli, cumin, paprika, oregano and black pepper but they're perfect if say you don't want to go out and buy all those spices individually or even if you're just in a bit of a rush and don't feel like doing a whole recipe from scratch.
Kettle Chips Limited Edition Salsa and Mesquite Flavour
Kettle Chips are one of my weaknesses in life so I was chuffed to find this bag in my box. I've never heard of the Salsa and Mesquite flavour but they are limited edition so this could be why. I gave them a try and to be completely honest they just weren't for me as I found them a little too tangy but if you like proper salsa, you may enjoy these.
Pip Organic Cloudy Apple Juice
Apple juice is something I enjoy but do not have often. The Pip Organic Cloudy Apple Juice was certainly something I liked and would definitely repurchase. It was refreshing, not overly sweet and very enjoyable. Thumbs up from me!
Cool Dawn Refreshing Drink
I received two cans of the Cool Dawn Refreshing Drink in my box and I have to be honest, they weren't for me. The drink contains a unique formula which is said to have been developed throughout 20 years of research that helps people to recover after a night out so that they are fresher and ready for the challenges of the day ahead. Personally I do not drink alcohol so I do not suffer the after effects of a night on the tiles but I gave this a go. The taste is very licorice like and not something I really enjoyed although I do think that if you're after a healthy non carbonated drink that is free from stimulants, this may certainly be worth checking out.
Montano Sidro Italiano Drink
The final item I received was a bottle of Montano Sidro Italiano Drink. As you can probably tell it is alcohol, apple cider to be specific. The drink is made using what are said to be some of the finest eating apples in the world from the highest orchards in Europe. Like mentioned previously, I do not drink so I have passed this on to my sister who shall be trying it out.
Are you a Degustabox fan?
Shannon xo
(*PR sample)