Want to see what goodies I recently picked up from good old Poundland?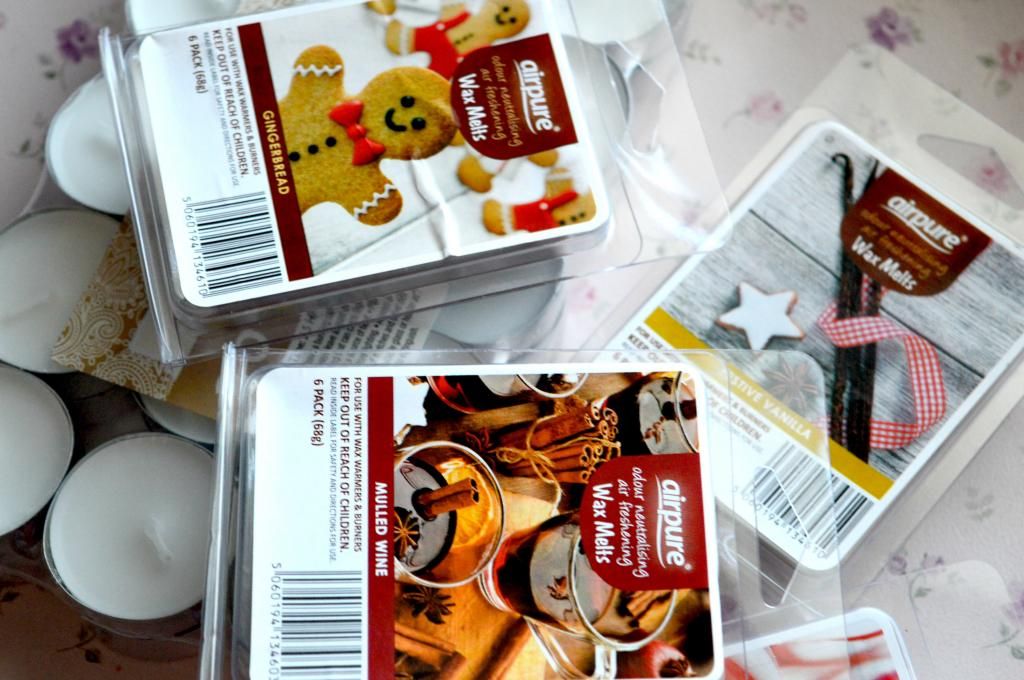 As many of you are probably already aware, I am obsessed with candles, wax tarts and home fragrance. Once place I've never really thought of looking was Poundland but when Marc and I stumbled in the store in search for cheap drinks for our bus journey home, I spotted lots of wax melts hidden away in a little corner. With them there were lots of little wax burners and even some cute festive tea light holders (To tell you the truth, I kind of regret not picking a couple up!) I'll be honest, I've never heard of AirPure before and with the melts being from Poundland I was not expecting much but I grabbed one of each kind along with a pack of tea lights as I was running low and my Amazon ones seem to be taking ages to arrive. The ones I got were Mulled Wine, Peppermint, Festive Vanilla and Gingerbread. Unsurprisingly all of the scents are quite Cinnamon like, with the exception of Peppermint but I didn't expect anything less from Christmassy scents. Each melt contains six cubes. I've so far only tried Festive Vanilla but I found one cube per burn more than enough as the scent really did pack a punch when it came to fragrance power. I found this very, very surprising and I was chuffed with my purchases. I'm hoping some of the other AirPure scents pop up in my local store too as I'd love to snap them up and give them a try. Also, keep your eyes peeled for a review of Festive Vanilla and of course the others once I've had a chance to try them out! For the tea lights, they're not bad. Obviously they're not top notch but they do the job, even if they don't last as long as I would have liked but hey ho, they were only a pound.
Have you tried AirPure wax melts?
Shannon xo